We can all agree that Pulp Fiction is one of the best movies of all time. A big part of that is because of Samuel L. Jackson's role as Jules, a badass character who loves to spout profound monologues before carrying out his violent acts.
Jackson knows a thing or two about superheros, given he plays MCU character Nick Fury in the Marvel movies — but in a 1994 interview, Quentin Tarantino admitted that he felt Jackson as Jules emulated a very different comic book hero.
Talking about Jules' characterisation, Tarantino explained to Film Comment, "It's coming from the fact that he's taking control of the room: you walk in like you're gonna cut off everybody's head, but then you don't cut off their heads."
"He's never met these guys before, he's improvising, he's gotta get that case," he added. "So he's like a real nice guy, he's cool, he's kind of playing good cop/bad cop and he's the good cop, he's the guy who sucks you in. He says that speech before he kills him because… that's what he does. He explains that later in the movie–'I have this speech I give before I kill somebody.'"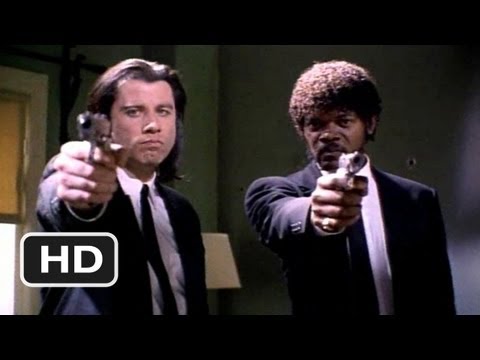 "That's Jules's thing, to be a badass. It's a macho thing, and it's like his good-luck charm. He's playing a movie character, he's the Green Lantern saying his little speech before he does what he does."
Knowing what we do now about the disastrous DC movie Green Lantern, it might seem like Tarantino wasn't paying much of a compliment — but back then, being compared to the hero was praise indeed.
If you want your fill on superhero movies this year, we've got you covered — here's our guide to all the new movies coming in 2o23. Or, if you're in the mood for more classic Tarantino, check out our guide to some of the best '90s movies.