It's always interesting to see which movies and TV shows become hits when they land on Netflix, no matter when they were first released or how…weird they are. Looking through their Top 10s each week always offers up some eyebrow-raising surprises and this week that honor goes to….Sausage Party – the 2016 Seth Rogen R-rated animated comedy movie.
Sausage Party was a reunion for Rogen with a bunch of his friends who he's been collaborating with since the early 2000s. These include his Superbad co-stars Jonah Hill, Michael Cera, and Bill Hader. James Franco – who Rogen has known since 1999's TV series Freaks and Geeks – is of course in the cast. And so is Paul Rudd, a frequent collaborator of Rogen and Judd Apatow.
Sausage Party's story was co-written by Rogen and Evan Goldberg – who also co-wrote Superbad, Pineapple Express, This is the End, The Interview, and the new Teenage Mutant Ninja Turtles movie. A warning for parents who might see the poster for Sausage Party and think it's a kids' animated movie like TMNT – this one is definitely for grown ups.
Sausage Party involves groceries in a supermarket discovering that the 'great beyond' (where they go when someone purchases them) isn't a utopia, but instead where they get used or eaten. Rogen, Hill and Michael Cera play sausages, and Kristen Wiig plays Rogen's girlfriend – a hot dog bun. Nick Kroll plays a douche (yes, really) and there's a um, food orgy at one point. Look, it's a deeply weird movie that needs to be seen to believed.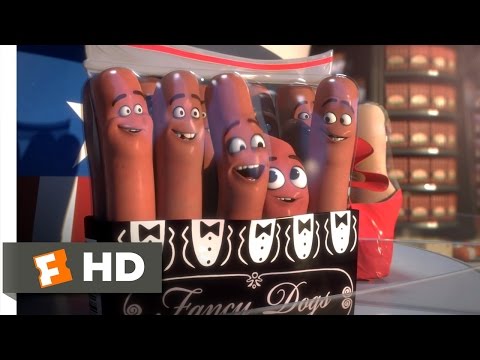 So, if you've been curious about Sausage Party for a while, now is your chance to catch up with it. It has a surprising 82% on Rotten Tomatoes, and it made over $140 million, which is very good for an R-rated comedy movie released in the last decade.
Check out our guide to the best comedy series and the best Netflix movies. Also, check out the best Netflix series and everything new on Netflix.