Keanu Reeves and Alex Winter went on an excellent adventure in 1989, followed by a bogus journey in 1991, and even returned to face the music in 2020. Bill and Ted are two of the most beloved comedy movie creations ever, and today was a significant (and definitely non-heinous) day for the time-traveling teens.
In Bill and Ted's Bogus Journey, the duo (played by Keanu Reeves and Alex Winter) must contend with Evil Robot versions of themselves, who have kidnapped their girlfriends (played by Sarah Trigger and Annette Azcuy) and taken their place in the upcoming Battle of the Bands. They enlist the help of an alien duo called Station to build Good Robot versions of themselves to defeat the Evil Robots at the Battle of the Bands.
The Battle of the Bands takes place on 15 September – according to the Dates in Movies Twitter account – as can be seen on a marquee on the civic auditorium where it takes place. This date also happens to be the birthday of Bill and Ted writer Ed Solomon, so it's a double celebration for Ted-heads.
Station was a very cool addition to the Bill and Ted universe for the sequel, but we think everyone is agreed that the best character in Bogus Journey – and in any Bill and Ted movie – is William Sadler's Death. Bill and Ted playing Battleship, Clue and Twister against Death is the funniest part of any of the movies.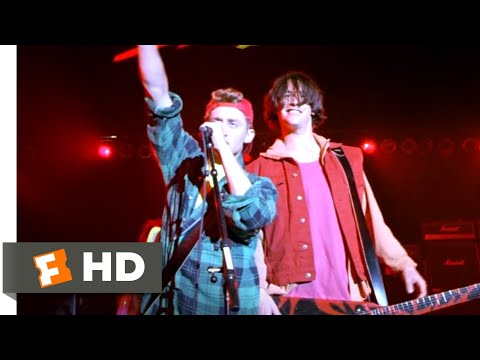 After an almost 30 year gap, Keanu Reeves, Alex Winter, and William Sadler returned for Bill and Ted Face the Music in 2020, which was generally favorably received with 82% on Rotten Tomatoes.
For more nostalgia, check out our guides to the best 80s movies and the best 90s movies.