Bryan Cranston and his Breaking Bad co-star Aaron Paul ate the fake blue meth that was used on the TV series. With Cranston and Paul as its leads, Breaking Bad is regarded as one of the greatest drama series of all time.
The show follows their two characters Walter White and Jesse Pinkman, and they become inducted into the underground world of drug manufacturing. What follows is a gripping thriller series exploring the evolution of a person, and their descent into amorality.
In the series, White and Pinkman create their trademark blue meth which they initially create in the back of their RV. Their operation is scaled up with the help of Gus Fring, who gives them a dedicated meth lab allowing them to reach new national markets and begin to vastly increase their profits.
Breaking Bad left audiences with a lot of complicated questions, but one of those probably wasn't "what does the fake blue meth in the show taste like?" Nevertheless, we now have an answer.
During his latest appearance on Hot Ones, Bryan Cranston explained what was used for the fake blue meth, and also gave an insight into what he tasted like. "TV methamphetamine, the way we made it with the blue tint is actually rock candy," he said. "And the flavour as cotton candy."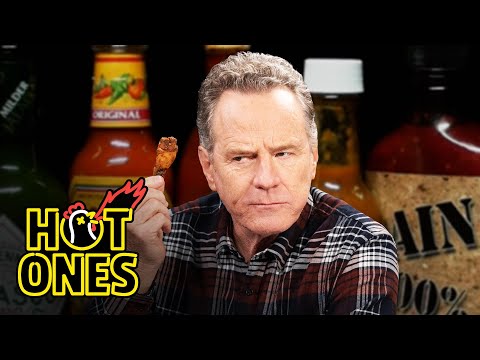 "I never tasted it until one night, it was probably the 16th or 17th hour we were working in our dungeon downstairs, our lab down there. Gus Fring is making sure we're working," he continues. "And I see Aaron Paul reach into our product, and he starts throwing the methamphetamine into his mouth."
"I go, 'What're you doing? You can't eat the product', he goes 'I'm getting so tired I'm going to eat it', you're really getting a high off this, but it is sugar!" Cranston recalls. "He goes 'you've tasted it?' I go 'No, I haven't tasted it', he goes 'You should taste it!'"
"I guess I was still in character because Walter White wouldn't taste it. He goes 'You've gotta have one! Yo, have one!'" he says, "and I tasted one, and it was like "that's pretty good. So that's what we used. Cotton candy rock candy."
Hopefully the sweet treats proved to be less addictive than the real stuff, because otherwise the pair's teeth will have paid the consequences. For more on Breaking Bad, check out our guide to the Better Call Saul ending explained. Have a look at our lists of the best comedy series, best Netflix series, and best sci-fi series for more awesome TV.