We've all shared a tear or two, or three, with Tom Hanks over the years. The best Tom Hanks movies are among the most emotional cinema experiences it's possible to have. Just his accent in Elvis was enough to make us cry, but perhaps that wasn't what he was going for.
Hanks is often at his strongest when working on the best Steven Spielberg movies, and they don't come much more potent than Saving Private Ryan. Inarguably one of the best war movies ever made, the film opens with the celebrated Omaha Beach sequence – the horrors of conflict writ large with pure cinematic spectacle.
The lengthy, violent scene is among the most famous in cinema history, and certainly had an effect on Hanks himself when he saw one of his best movies in all of its glory.
"When I first saw the completed sequence, I wept," Hanks told Vanity Fair. "The landing, from the boats to the top of the bluff, was just too horrible to watch without becoming undone. People see that landing sequence as a seminal 20 minutes, not just in the history of war movies, but in all of cinema."
It would take a pretty hard heart not to be crying with him. Few movies have ever packed an emotional punch like that.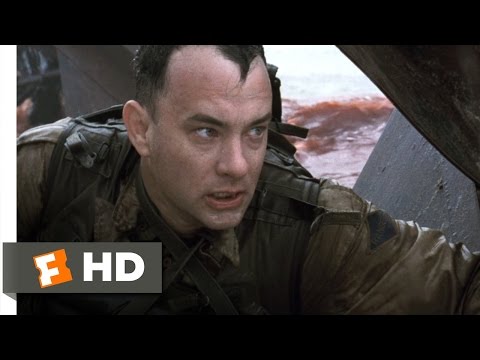 Hanks explained that Spielberg was very excited about how technology had advanced enough to make the sequence possible. "He said no combat movie would have ever been like it. I knew immediately that our job as actors would be to behave and react in the actual physical moment, that we would be trained accordingly over time, and that anything that happened on-screen would be as it should.
"My rank as captain mattered in training. I had some responsibility and some luxury (my own tent!) but on the set, the script played itself out. We all had our moments in the movie and rooted for each other."
Saving Private Ryan went on to become established as one of the best '90s movies, and earned Spielberg an Oscar for Best Director. It was widely tipped to win Best Picture, but was controversially pipped at the post by Shakespeare in Love.
Hanks will next be seen in Wes Anderson's new movie, Asteroid City. For more of the 2023 movies worth getting excited about, check out our guides to the Indiana Jones 5 release date, the Oppenheimer release date, and The Equalizer 3 release date.