Since Ben Stiller's Zoolander was released in 2001, at the start of what was arguably one of the best ever decades for the comedy movie, many people have paid homage to it in their own special ways. Blue Steel became 'duck face' once phones could capture selfies. A Los Angeles art gallery put on a Really, Really, Really Ridiculously Good Looking Art Show in 2016. Fashion designer Marc Jacobs did a recreation of the Orange Mocha Frappuccino scene on his Instagram in the same year. And now wrestling has got in on the act.
At AEW's All Out during Labor Day Weekend, Kris Statlander donned a Zoolander-inspired black-and-white patterned outfit and did her best Blue Steel. Ben Stiller has responded to the homage on Twitter, paying the best possible compliment that Derek Zoolander could give; "ridiculously good looking."
The 2001 movie had an A-list cast of comedy stars such as Will Ferrell, Owen Wilson, and Ben's father Jerry Stiller. There were also actors known for more serious work such as Milla Jovovich (who brought her modelling experience), Alexander Skarsgard, and Jon Voight. There was also the cream of the fashion world – such as Tom Ford, Tommy Hilfiger, Heidi Klum, and Claudia Schiffer.
But the best celebrity cameo in Zoolander is undoubtedly David Bowie, who features in the iconic Walk Off scene. Unfortunately, the 2016 sequel to Zoolander was ill-advised, as it achieved just 22% on Rotten Tomatoes.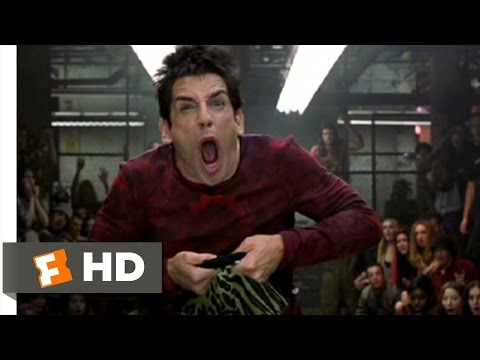 Separately and together – Ben Stiller and Owen Wilson were part of hit comedy movies such as The Royal Tenenbaums, Dodgeball, Starsky and Hutch, Anchorman, Night at the Museum, Tropic Thunder, and Wedding Crashers during the 2000s. They were part of a wider 'Frat Pack' that included Ferrell, John C. Reilly, Vince Vaughn, Paul Rudd, Seth Rogen, and Steve Carell – among others.
Check out our guide to the best sports movies, to find out if any wrestling movies made it onto our list. For more laughs, see our guide to the best comedy series.