If you're part of the Yellowstone universe, the chances are pretty high that you'll be playing a cowboy. That would have been a dream come true for Josh Holloway, but Taylor Sheridan had other ideas for the actor.
At its core, Yellowstone is a show about cowboys. Yes, I know the Yellowstone timeline is full of explosive action, intense family drama, and land ownership disputes. But let's be honest, the main reason it's the best TV series around right now is because we get to see cowboys doing cowboy things.
So, you can imagine how excited Josh Holloway was to join the Yellowstone cast. That is, until Taylor Sheridan revealed he would be playing a villain, rather than a cowboy.
Speaking to USA Today, Holloway explained how he manifested his involvement in the show: "I would sit down and watch Yellowstone with my wife and I'd be like, 'One day, I'll get a show like this. And I still can't believe I'm on the show."
And, he was right. It helps that Holloway and Yellowstone creator, Sheridan, are good pals and spend their free time horseback riding through the Wyoming mountain ranges together. But, this friendship ended up costing Holloway, simply because Sheridan wanted to annoy his buddy.
"When I got the call, I was so excited that I was finally going to get to be a cowboy, because in 18 years of acting, no one has cast me as the cowboy, for God's sake," Holloway added "I was like, finally. Thank you, Taylor. And nope. He cast me as a Wall Street guy. I was like, 'Taylor? Really?' He thought that was the funniest thing."
To be fair, Holloway's Yellowstone character, Roarke Morris, does get to spend plenty of time outdoors, fishing in the river mainly, so at least Sheridan catered to the actor's interests in the end. However, the fact that Roarke is killed by Rip Wheeler essentially throwing a snake at him and letting nature do the rest is truly hilarious, and is probably an idea Sheridan cooked up especially for his old friend.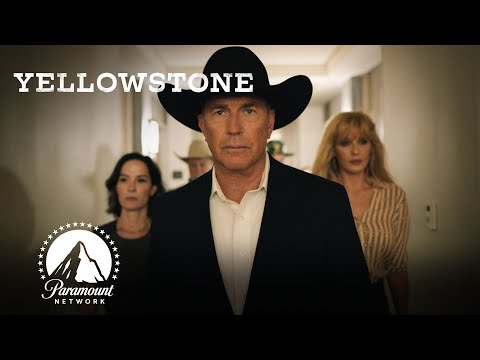 Still, I'm sure every actor hopes for a memorable death, and of all the characters to meet their demise in Yellowstone, Roarke's final scene is right up there as one of my favorites in the whole show. That said, I do think Roarke had more to give, as he actually did very little to disrupt the Dutton clan, apart from pissing off Beth Dutton a couple of times with his sleazy attitude.
For more from the best drama series, check out our guide to the Dutton family tree or look ahead to Yellowstone season 5 part 2. You should also be very excited about the Yellowstone 6666 release date and the Yellowstone 1923 season 2 release date.