One of the reasons why we all love Yellowstone so much is for its authenticity. It depicts the real struggles and challenges faced by modern ranchers in the US, and the fading of a particular way of life. That's no surprise given that it's helmed by Taylor Sheridan – himself a cowboy and rancher – who makes his actors take part in an infamous 'cowboy camp' before they begin their part on the show.
Here, the Yellowstone actors get to know how to be comfortable on and around horses and learn to embrace the cowboy lifestyle. For Luke Grimes, who helps to lead the Yellowstone cast as Kayce, the experience was fantastic, but testing. "So he sends us on a cowboy camp: it's basically a three-day pack trip into the middle of nowhere," recalled Grimes, speaking with ET.
"We're sleeping in tents, resting our heads against our saddles." Sounds perfect so far, right? Wrong. "A lot of things went wrong, which made it even more cowboy than it was supposed to be. One of the mules took a tumble and lost a lot of our food," he said, revealing that the camp's participants were then forced to go out and source their own meals from the wilderness.
Grimes concluded, "It's one thing to ride a horse around an arena, and another to jump over creeks and have your horse get spooked by a snake, and some of the real-life stuff."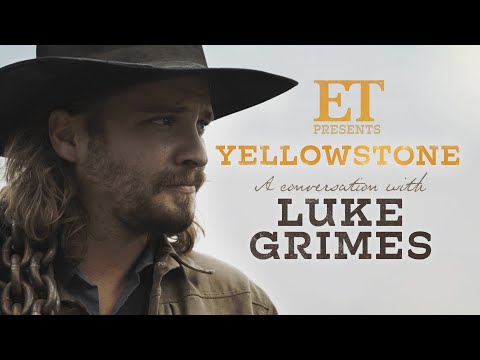 Tumbling mules? Snakes scaring the horses? Running out of food? It sounds just like an episode of Yellowstone, which has quickly defined itself as one of the best TV series of the modern era. And, clearly for Grimes, the experience was hugely helpful in allowing him to connect with Kayce as a character, and in fostering an appreciation for the show's subject matter.
For the actor, being comfortable as a cowboy is of the utmost importance because aside from John Dutton himself (and perhaps Rip Wheeler) Kayce is the Yellowstone character who sees the most cowboy action. Right from the get-go, Kayce's life revolves around horses and throughout the series that never changes. Even when he becomes Livestock Commissioner, he's happiest when he's sat on the saddle of a horse, rather than behind a desk.
Grimes never does anything other than a brilliant job here, and the actor looks as if he's been riding horses his entire life. When Yellowstone season 5 part 2 finally hits screens (likely in late 2024 or early 2025, given that filming hasn't begun and the return of Kevin Costner still isn't certain) Kayce's story will continue to be linked to the fate of the ranch, and therefore its horses.
Unlike his warring siblings Beth Dutton and Jamie Dutton, Kayce's busy minding his own business, looking after his family while keeping the business ticking over. He's the least complicated member of the Dutton family tree and just wants a happy life. If John Dutton dies, as we're expecting, ownership of the ranch will likely fall into Kayce's hands though, and that'll be anything other than simple.
For more Yellowstone fun, see our guide to the 1923 season 2 release date and the 6666 release date. Or, check out why Luke Grimes has Clint Eastwood to thank for his role as Kayce, before seeing what's new on Paramount Plus.