What is the Uzumaki anime release date? When it comes to horror, Junji Ito is one of the best-known and respected names in the business. From psychological distress to immortal girls terrorising folks, Juniji Ito always delivers fear. And now one of his best works is being adapted for the small screen – Uzumaki.
Coming from Adult Swim and the studio Production I.G, the upcoming anime series, Uzumaki, is based on the manga series of the same name – originally published in 1998. Set in the small seaside town of Kurouzu-cho, the horror anime will follow two high schoolers dealing with a supernatural curse plaguing the city and its residents. Que some spirals, insanity, and bonafide terror!
But you may be asking yourself, when is the Uzumaki TV series coming out? Or wondering if it will follow the manga's story? Well, worry not, horror hounds – we've got you covered. From the Uzumaki anime release date, trailer, plot and more – here is everything you need to know about Junji Ito's upcoming series.
Uzumaki anime release date speculation
Currently, there has been no Uzumaki anime release date announcement. However, if we were willing to bet when the series would be hitting our small screens sometime in late 2023 would be our best guess.
It seems like Uzumaki is ironically a bit cursed when it comes to its production. Originally the series was meant to come out in 2020, then Covid- 19 hit and the animated series was delayed. The anime was then meant to release in October 2022. However, it was delayed again due to unsatisfactory results with the show's production.
While all these delays are disheartening, it does tell us that work on the anime is still being done and that the show is in its final stages of production. So, a 2023 release date is still very much in the cards.
We should also remember that Netflix released another Junji Ito horror series in January 2023, titled Junji Ito Maniac. So, to avoid clashes, Uzumaki will likely hold off on any announcements when it comes to releasing details for a few months.
Is there an Uzumaki anime trailer?
While there is no full-length Uzumaki anime trailer, we do have a small teaser clip! In June 2021, Adult Swim revealed a new video which provided horror fans with an update on the production as well as a first look at the animated series.
In the teaser, director Hiroshi Nagahama apologised for all the anime's delays before showing fans what his team had been working on. In the clip, we see the young girl, Kirie Goshima, walking towards the black-and-white town of Kurouzu-cho as ominous music plays.
The teaser may be short, but it is still eerie as heck, and personally, we can't wait to see more of the anime as future updates head our way. You can watch the Uzumaki anime teaser below.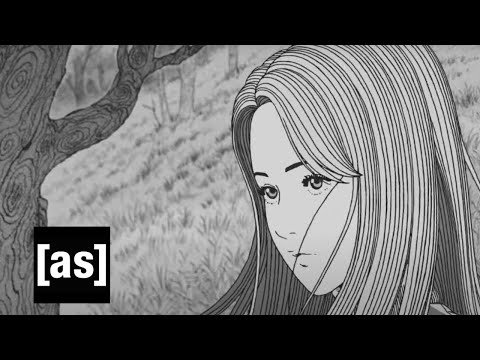 What is the Uzumaki anime plot?
Since the Uzumaki anime is based on the horror manga series of the same name, we have a clear picture of what its story will look like. The Uzumaki anime plot will follow the citizens of the city Kurouzu-cho who soon become plagued by spiral curses and edge closer to insanity.
The primary characters who we will be following are the young girl Kirie Goshima and her boyfriend Shuichi Saito as they face supernatural challenges haunting their home. The anime will likely cover the entire story of the manga, meaning we will see some fun snail transformations, hypnotising faces and hair, and some hardcore typhoons.
We will also see Kirie and Shuichi trying to escape Kurouzu-cho and subsequently learning more about the curse hovering over the city. However, there is something that all of us Junji Ito purists have to keep in mind when it comes to the new anime's plot.
The Uzumaki anime will consist of four episodes, so changes will likely be made to the story to account for the time constraints. This means some story beats may be altered or left out altogether.
We will keep you posted as more details filter in.
Who is in the Uzumaki anime cast?
The Uzumaki anime cast and crew are stacked with talented names. Playing the leading roles of Kirie Goshima and Shuichi Saito will be Uki Satake and Shin-ichiro Miki, respectively.
Here is the Uzumaki anime cast:
Uki Satake as Kirie Goshima
Shin-ichiro Miki as Shuichi Saito
Mariya Ise as Azami Kurotani
Wataru Hatano as Okada
Mika Doi as Yukie Saitou
Takashi Matsuyama as Toshio Saitou
Satake is known for past work on hit anime series such as Mob Psycho 100 and Space Dandy. And fans may know Miki as the original voice of the anime character James in Pokemon. Miki also voiced the My Hero Academia character Sir Nighteye. So yeah, Uzumaki has some seasoned stars in its roster.
For more anime fun, here are our guides to the Demon Slayer season 3 release date and the One Punch Man season 3 release date. If you are after some upcoming releases, here are all the new movies heading our way in 2023.