Everyone has their opinion on the ending of The Sopranos, but not everyone had the means to pitch their ideal conclusion to the show's creators. Emmy award-winning actor Alec Baldwin did just that, placing himself right at the centre of it.
During his appearance on the Talking Sopranos podcast, Baldwin regaled Michael Imperioli and Steve Schirripa, who played Christopher Moltisanti and Bobby Baccalieri Jr. in the series, respectively, with his idea, and his failed attempt at selling it. In his version, we're not left with that blank screen without any sense of real conclusion. Instead, Tony Soprano's fate is definitive, and Baldwin's the one riding off into the sunset at the end of it all.
"I called up whoever it was, I forget, and said, 'Tell them when it's time to kill Jimmy (James Gandolfini, who played Tony Soprano) – this was early, in the beginning, before you get to the end – there is only one man who should whack Jimmy and ride off with Edie (Falco, who played Carmella, Tony's wife)," Baldwin says, as transcribed by The Hollywood Reporter, "and I am that man. I am the guy who needs to blow Jimmy away and take Edie, who I am madly in love with, away. They were like, 'Uh-huh, sure. Great. We'll add your name to the list of all the Irish actors who think they should be on The Sopranos'."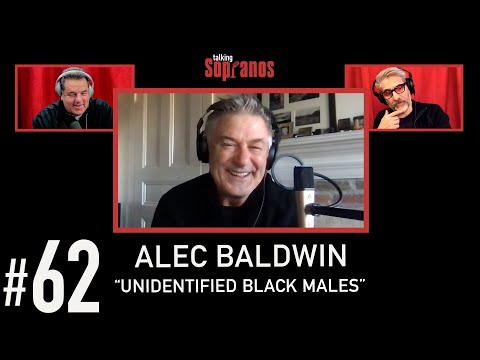 Tongue is planted firmly in cheek for Baldwin's recollection, but there's a certain chaos to it that makes it a charming "What if…?" to consider. Whomever he talked to wasn't kidding about the queue for a guest spot on HBO's hit mobster drama, and Baldwin would've joined the likes of Will Arnett, Steve Buscemi, Jon Favreau, Robert Patrick, and Nancy Sinatra if he'd made an appearance.
Leading into this on the pod, Baldwin tells an anecdote about running into David Chase, creator of The Sopranos, in a fancy Los Angeles restaurant. After a crossed wire over the location of a meeting, Baldwin arrived sweaty and uncouth, and right when he was drying his clothes off in the bathroom, Chase walked in. "This is my introduction to David Chase. And he goes, 'Alec Baldwin? What the fuck are you doing drying your shirt in the bathroom of the Four Season restaurant?'," Baldwin says. "And based on that alone, I was never cast on your show. Ever."
All six seasons of The Sopranos are available to stream now through Now TV in the UK, or HBO Max in the US.