It really is incredible that The Sandman Netflix series exists. Rumours of an adaptation date back to the early '90s, when the hit comics from writer Neil Gaiman started attracting widespread attention and fanfare. Failed production after failed production only added to the feeling that it was unadaptable, too wild and experimental for the constraints of TV and movies.
Yet, in 2022, here it is in the flesh. The Sandman, brought to life on Netflix, with an ensemble cast portraying the myriad gods and monsters. Tom Sturridge is at the forefront as Morpheus, otherwise known as Dream, lord of the Dreaming, an ethereal being who personifies where we go when we sleep.
He's one of the seven Endless, siblings charged with a different facet of the human experience. Morpheus can manipulate the reality of anyone's dreams or nightmares, his powers only subject to the limits of Gaiman and whoever's pencilling any given issue's imaginations. The Sandman often beggars belief, and the TV series maintains the same vibe while updating and re-contextualising where necessary. As Gaiman and the cast say, this required a lot of work and less digital magic than you might expect.
"So much of it was practical," Sturridge told a roundtable attended by The Digital Fix. "There was a very simple idea at the beginning, which was that the thing about dreams is that you don't know you're in them – you believe that they're real. So it was incredibly important for production not to turn into a CGI videogame-fest."
Another world: The best fantasy movies
The Dreaming, as fantastical as it is, was a real set. That castle, those walls and stairways, the library, these places are tangible, giving the actors something to feel and interact with. Of course there's some CG – much as we'd like otherwise dragons and fairies don't exist – but it's used to complement actual locations, something that was gratifying for the performers.
"Everything on that set is so detailed, the history just slaps you in the face," Vivienne Acheampong, who plays Lucienne, caretaker and librarian of The Dreaming, says. She explains that the elaborate stages gave herself and Sturridge something to fall back on emotionally because you could see the relationship between their characters.
"I really leaned into the history that we don't see between them, and the history of the Dreaming, and what she has with these characters," she stated. "You can see that a bit with the scenes with the Raven, Mervyn Pumpkinhead, and Cain and Abel. She's been around for a lot, she's seen it all, and I really tapped into that."
Get absorbed: The best drama series
There were drawbacks to such practicality – Boyd Holbrook had some trouble with the jet black sunglasses the Corinthian's always wearing. "We're shooting over the pandemic, and I hadn't had a chance to put the glasses on at all," Holbrook said in a roundtable interview attended by The Digital Fix.
"So you're rushed from one hazmat suit to another hazmat suit to perform. I just put the glasses on for the first time, and they were more black than normal, just complete blackness. I totally forgot all my lines, the whole scene, I couldn't remember anything. I was mortified because I was just the worst actor there that day."
He eventually got used to it, and enjoyed playing with Corinthian's ability to slip in and out of a crowd. Many scenes were made as close to the comic as possible, even when that meant imagining whole universes into existence. Morpheus and Lucifer, played by Gwendoline Christie, have a battle of wits where they counter each other in different forms, escalating from predatory animals to the concept of hope.
Wild: The best adventure movies
The elaborate duel makes for an excellent comic spread and filming it was always going to be tricky. They didn't wilt from the challenge, and the whole thing was a highlight for Sturridge. "Jamie Childs, who directed it just got a studio, painted it black, and got a hunter on a horse. He got a wolf in the studio, he got a real eagle," he recalls. "That just gives it so much more danger when you feel the threat of living, breathing beasts."
Sturridge and Christie fed off that energy as they got into it on a personal level. "There was something incredibly pure about just standing opposite Gwendoline Christie, and saying those line, and just staring into her extraordinary eyes," he stated. "The juxtaposition between that wild day with all these animals, and the simplicity of just staring at this extraordinary actor and feeling what she was feeling was beautiful."
Not everything is a one-to-one translation, nor could it be. The Sandman was started over 30 years ago, and some changes were necessary. The setting was changed from the late '80s to modern day, and certain characters were altered to better represent what Gaiman was going for. Ultimately, much of this is surface level, because as the man himself says, the book was ahead of its time.
Nightmares: The best horror movies
"Setting it now has been kind of liberating, although hasn't changed anywhere near as much as we thought it would," Gaiman said in a roundtable attended by The Digital Fix. "I think honestly, the main thing I've taken from it being almost 35 years after Sandman began is that we got a lot of stuff right."
The Sandman's inclusivity has been a major factor in why it's still so beloved. Gender, sexuality, and race are boundless in the eyes of the Endless, thus they're freely explored within the story. Gaiman recalls how The Sandman has always alienated some audiences one way or another.
"At the time when I was doing Sandman, I was getting flack for the fact that Sandman didn't have politics in it, because everybody else was doing comics that had politics in them, and you knew they had politics because they drew Margaret Thatcher with vampire teeth," he says. "People were saying, 'Yeah, and Sandman is completely apolitical'. I don't think it is, but maybe it isn't in the way that you think. Now I'm getting attacked cheerfully by idiots for making Sandman woke, and I'm going, 'Well, whatever you're complaining about, we did 35 years ago'."
Believe: The best ghost movies
Over the years, The Sandman has entered development as a movie multiple times. All these attempts were actually blocked by Gaiman, who didn't trust those involved for one reason or another to do the material justice. The Netflix show happened because he had enough bargaining power to make sure he was part of the creative team.
David S Goyer joined him as co-developer and executive producer, a collaborator from a nascent film version from the early 2010s, and Allan Heinberg. The latter has a wealth of experience in television, having worked on Sex and the City and Gilmore Girls from the ground up. Heinberg had the challenge of making The Sandman doable on TV, a feat exemplified by '24/7′, where a high-concept single issue becomes a jaw-dropping bottle-neck episode.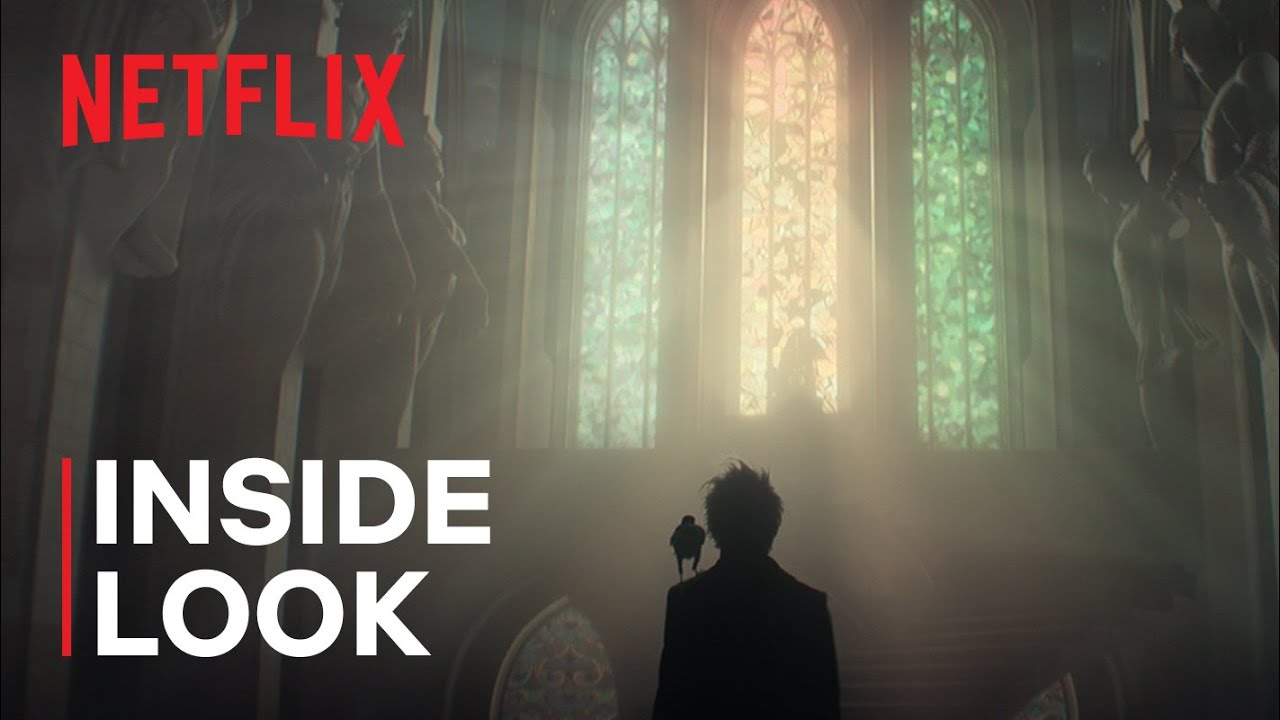 "[That's] a quintessential comic story. in that I started it almost is a formal challenge," Gaiman says of '24/7′. "I have 24 pages, I'm going to do a story called '24 Hours', wherever possible I'll do a page an hour. I need a narrator to carry me through and tell me about these people, and to tell me what's happening at each hour. Of course, handing it to Allan to make in a television. That wasn't there anymore."
Heinberg understood what was in front of him, and cut no corners in making something that has the same ideas, just executed for the appropriate medium. "We built that diner on a soundstage, we had the actors, we took a day, and we just rehearsed the entire episode, like a play with the company and the director, and the department heads," he told a roundtable The Digital Fix attended.
From the page to the screen: The best superhero movies
"Then we shot the episode in sequence with everybody there all the time. There's never a moment where something's happening in the kitchen, and the cast from the diner itself isn't present watching through that window. I've never experienced anything like it in making TV all these years. It was a really special experience."
That's why this Sandman exists – it feels forward-thinking and imaginative like the comic. After all these years, Gaiman has allowed his dream to become a reality in another form, and so long as it's still recognisable as his Dreaming, he'll keep producing it. "We're making the Sandman that I've had in my head," he says. "That, for me is huge, and that's why I'm much more willing to play."
The Sandman is on Netflix now.