In one of the most iconic opening scenes of any movie – let alone trilogy – a man approaches a mafia don on the day his daughter is to be married to ask for justice for his own daughter. And maybe the best aspect of The Godfather's first scene is that Marlon Brando's Don Corleone has a sweet cat on his lap playing with his hands while he discusses murder.
It turns out that the cat being in one of the best drama movies ever was a fortuitous example of happenstance. For the film's 40th anniversary in 2012, Time magazine compiled 40 Things You Didn't Know About The Godfather. One of them was about the cat in question; "As Don Corleone calmly explains his idea of 'friendship' to the undertaker Bonasera, the first nearly full-body shot of the don reveals an unexpected guest: a gray and white cat sitting in Marlon Brando's lap."
"'The cat in Marlon's hands was not planned for,' director Francis Ford Coppola said later. 'I saw the cat running around the studio, and took it and put it in his hands without a word.' Brando apparently loved children and animals, and it became part of the scene."
It's clear in the scene that the cat instantly loved one of the best actors of all time; "But it also nearly ruined the shot. When the sound crew listened to Brando's dialogue, they couldn't understand a word he was saying and feared they would have to use subtitles. The problem wasn't Brando but the cat, whose purring wrecked the sound. You can still hear it on the sound track."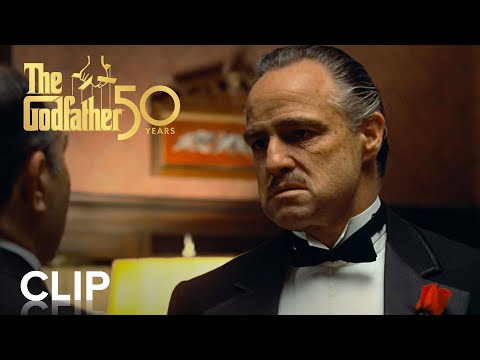 The Godfather turned 50 in 2022, so there were plenty of anniversary screenings and events. There was also TV series The Offer which told the story of the making of The Godfather. There's also the upcoming new movie Francis and the Godfather starring Oscar Isaac, Jake Gyllenhaal, Elle Fanning and Elisabeth Moss. We also have a new Francis Ford Coppola movie to look forward to and Megalopolis sounds epic.
The sinister boss or malevolent villain stroking a cat became a movie cliche which was kickstarted by James Bond movie villain Blofeld and his magnificent white cat in From Russia with Love (1963). Dr. Evil in comedy movie series Austin Powers was of course based on Blofeld.
Check out our guide to the best movies of all time.