Who is in the Stranger Things cast? The exciting adventures of Hawkins' youth are appointment television, with water-cooler conversations about Vecna, social media ablaze in between season 4's two parts, and an audience fully invested in the kids we've seen grow since season one.
The Netflix series has launched the careers of its young stars, many of them appearing in other franchises, movies that won Oscars, and other Netflix content.
But who is in the Stranger Things cast? Here are the stars of the sci-fi series, and what new movies and TV series you can expect to see them in.
Winona Ryder as Joyce Byers
Winona Ryder is Joyce, the mama bear of Stranger Things. The series has a running gag where Joyce gets all tinfoil hat and comes up with conspiracies, but she's actually pretty much always on the money and is an incredibly brave and determined character.
Ryder brought star power to the series before it was a slam dunk. Although her career had seen a bit of a lull, she was still a household name and synonymous with gothic aesthetics in the biz, with appearances in the likes of Tim Burton movies, the Oscar-winning Girl Interrupted, Black Swan, and cult classic 80s movie Heathers.
As for what's next, Ryder is expected to reprise her Beetlejuice role now that Beetlejuice 2 is moving forward.
David Harbour as Chief Hopper
Hopper is Stranger Things' every-man who adopts Eleven and comes in to save the day with last-minute heroics in every season.
David Harbour had been acting for some time, appearing in romance movies like Brokeback Mountain, but this was his big-time role, and he's been steadily in more and more projects ever since, even being Hellboy. One of Harbour's most recent roles was in the 2023 ghost movie We Have a Ghost.
Millie Bobby Brown as Eleven
Millie Bobby Brown burst onto the scene with her role as Eleven, the series' most powerful character.
Her abilities as a child actor didn't go unnoticed, she was picked up by Netflix for their Enola Holmes movies, one of which came out recently in 2022. She also appeared in MonsterVerse movies Godzilla King of the Monsters and Godzilla Vs Kong.
Brown is certainly busy, with the fantasy movie Damsel and the science-fiction movie The Electric Slate both releasing in 2024.
Finn Wolfhard as Mike Wheeler
Mike is the heart of the group, as Will would put it. Brash, a little bratty, but unwilling to let any of his friends get harmed.
You may recognise Finn Wolfhard from Ghostbusters Afterlife, or the horror movies IT Chapter I and II. Wolfhard has also done a fair bit of voice work in the likes of Guillermo del Toro's Pinocchio and Carmen Sandiego.
Wolfhard is expected to show up in the sequel to Ghostbusters Afterlife.
Gaten Matarazzo as Dustin Henderson
Dustin is the sweetest out of the four main kids, but also complete chaos, which Gaten Matarazzo plays to perfection.
He's mostly been in comedy movies, and had his own prank show, but Matarazzo is a very capable emotional performer, so we hope studios will take a bit more notice. His most recent non-upside-down project was Honor Society in 2022.
Caleb McLaughlin as Lucas Sinclair
Lucas is a character who has seen a lot of growth, particularly in season four where the character delivers the most heartwrenching scenes of perhaps the entire series in its finale. Caleb McLaughlin, like Matarazzo, excels in heavier moments.
McLaughlin was in the Idris Elba western Concrete Cowboy, the sports movie High Flying Bird, and 2022's The Boys animated series spin-off Diabolical. The Book of Clarence, a star-studded affair, is his next movie.
Noah Schnapp as Will Byers
Will's abduction is what kicks off the events of the series. And the character's coming to terms with his sexuality has been a running theme for Will.
Noah Schnapp does a great job, particularly in season two where Will deals with his trauma from experiencing the upside down. Schnapp has had a steady stream of supporting roles since Stranger Things began. He was in Tom Hanks's Bridge of Spies, kids movie The Angry Birds Movie, and Hubie Halloween with Adam Sandler.
Next up for Schnapp is The tutor, dated for March 24, 2023.
Sadie Sink as Max Mayfield
Max was a latecomer to the cast, but immediately won those of us who love abrasive, snarky young characters over. Max was the shining star of season four, and Sadie Sink resultingly looks to be on the rise.
You might have seen Sink in Taylor Swift's All Too Well short film, recent Oscars movie The Whale as Brendan Fraser's rather difficult teenage daughter, or in Netflix's Fear Street Trilogy experiment.
She was particularly fun as a final girl, so here's hoping for some more horror movies.
Natalia Dyer as Nancy Wheeler
Natalia dyer plays Nancy Wheeler, Mike's older sister who is haunted by her part in her best friend's death. Inquisitive, able to stand her ground, and a shockingly good shot (she was in a beret, for goodness sake).
Dyer has been in a good few movies, most notably Velvet Buzzsaw with Jake Gyllenhaal and the sex-comedy Yes, God, Yes. The big news, though, is she was in The Hannah Montana movie.
Charlie Heaton as Jonathan Byers
Ah, Jonathan, we've come a long way from the creep shots. Will's moody older brother is played by Charlie Heaton.
Heaton also happens to be a musician, but Stranger Things has kept his schedule quite full. Heaton has been in a few small films, mostly shot before the series, but his biggest role outside of it was the Marvel movie New Mutants, which went through several delays and was dead on arrival. Better luck next time, Charlie.
Maybe he doesn't need it, because he's set to appear in the Al Pacino drama movie Billy Knight.
Joe Keery as Steve
Steve accomplished an audience U-turn, after being largely unlikable in season one he's now a fan favourite. Thanks, in part, to how well Keery pulled the change off. Season one Steve? We don't know him.
Keery has done some interesting projects, starring in Spree — a manic serial killer movie with a live-stream shtick, and Ryan Reynolds movie Free Guy in 2021, where he plays a lovable geek.
Production wrapped on Marmalade, a heist movie Keery will be in, in mid-2022. so we shouldn't have to wait long to see him again.
Maya Hawke as Robin
Daughter of Ethan Hawke and Uma Thurman, although she probably wouldn't love the fact we've started with that at the top, Maya Hawke does as much songwriting as she does acting, releasing her second album 'Moss' in 2022.
The Duffer Brothers took a chance on Hawke for the role of the lovable blabbermouth that is Robin, and as such, she doesn't have many credits, but she did appear in the amazingly camp, fresh teen movie Do Revenge in 2022.
Next up for Hawke is Asteroid City, alongside big names like Margot Robbie and Scarlett Johannson.
Jamie Campbell Bower as Vecna
The big bad of the series who made us want to throw hands at our TV screens, Jamie Campbell Bower is Vecna.
Readers who were YA-inclined in the 2010s will know Bower was in the unfortunate The mortal Instruments adaptation that never made it past a first franchise entry. That could and should have been Bower's launchpad, but instead, he ended up in a bunch of others.
Twilight, Harry Potter, and an unaired Game of Thrones prequel pilot… he's made his rounds.
Bower has no need to fret though, as he was positively menacing in season four of Stranger Things, and we're sure he's getting calls after the show wraps for good.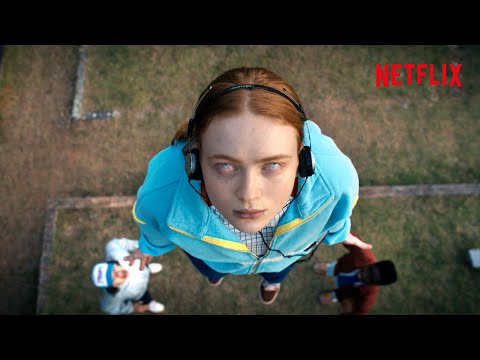 For more upside down, see our guide to the Stranger Things season 5 release date, the best fantasy series, and see the inspiration behind some of the DnD scenes with one of 2023's new movies, the Dungeons and Dragons movie release date. Also, be sure to check out our vault of secret Netflix codes.