You might think you know everything about Saving Private Ryan, but this one detail's subtle. Steven Spielberg's seminal film, about a rescue mission to save the last of a group of four siblings, is often considered one of his best movies, but it might be one of his darkest too.
In the war movie's opening scene, during the Normandy landings, two German soldiers attempt to surrender to the Allies. They're gunned down mercilessly and ridiculed, because the Allies assumed they were German Nazis. However, you might notice there are no subtitles when these opposing recruits speak, and that might have been conscious decision by Spielberg, because they weren't German at all.
These two were actually Czech, and were conscripted by the Nazis after Germany invaded their country. They just wanted to go home, but the Americans couldn't understand their language either way, and murder them in the drama movie regardless.
History Buffs inserted accurate subtitles, and it's a harrowing moment. "Please don't shoot me," they exclaim. "I am not German, I am Czech. I didn't kill anyone! I am Czech."
This, as the Buffs point out, expands on the underlying theme that the Allies committed heinous atrocities in WWII as well. A lot of Saving Private Ryan focuses on the sheer confusion and grey morality of being involved in that war. Tom Hanks leads a platoon as captain John Miller, instructed to bring home private Ryan, played by Matt Damon, the last of four brothers still alive.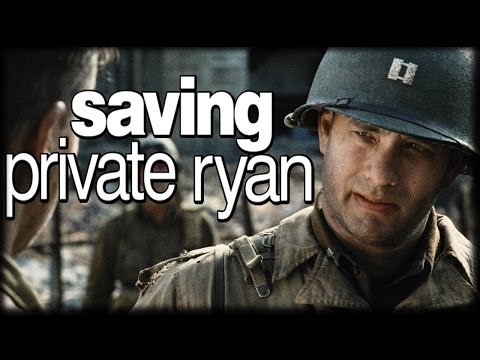 Saving Private Ryan becomes literally the only thing the team can hold onto through their expedition, as they see the ramifications of this brutal conflict first hand. It's one of the best Steven Spielberg movies, and really demonstrates his understanding of history and tone and moral complexities.
Likewise, it's a great successor to Schindler's List, Spielberg's harrowing biopic of the German factory owner who managed to saved over 1,000 Jewish people from the Nazis. Painful films they may be, they're also beautiful, stunningly acted, and well written, and offer a huge amount to viewers who want to dissect them.
We're certainly still learning about Saving Private Ryan! Check out our list of the best movies based on a true story for more history. For something lighter, we have guides to the Jurassic Park movies in order and the Jurassic Park cast for more Spielbergian classics, and you might also enjoy our feature on why AI is Spielberg's scariest film.