When it comes to influential comedy movie performers, Robin Williams made one of the biggest impacts the game. Securing his legacy through countless memorable roles, he ensured that his humour and artistic flare would never be forgotten.
His roles ranged dramatically, from quirky family movies to emotional drama movies, and everything in-between. With his versatility and love for cinema, it's no wonder that he found himself drawn to this Stanley Kubrick film, and most notably, to a particular actor within it.
The film in question? Dr. Strangelove or: How I learned to Stop Worrying and Love the Bomb. That's right, the half comedy, half war movie made a lasting impact on Williams, because of one particular performance in it.
In an interview with AFI, Williams spoke about the inspiration he found in the film.
"For me, the most influential actor in films was Peter Sellers, because of the Pink Panther but mainly because of Dr Strangelove, to see one person play that many characters and to play each one of them differently, and each one so committed — especially in Dr Strangelove."
Williams goes on to quote some of his favourite lines from Sellers, before going back to the subject of Dr Strangelove once more.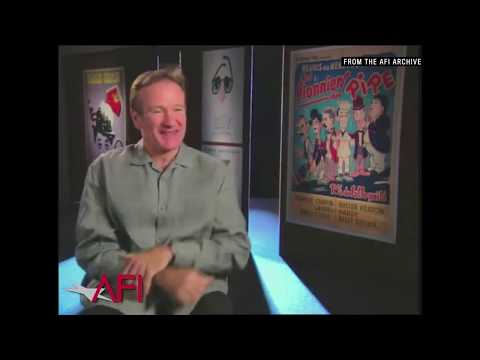 "Plus the fact that it's all about the end of the world," he adds. "And that for me, it was this amazing…it just struck me that comedy could be that, and hit that hard."
Like Williams, we'll always have a soft spot in our hearts for the Kubrick movie too, keeping it alongside the likes of The Shining, and 2001: A Space Odyssey.
If you're looking to get to know some of the best movies of all time, why not check out our lists of the best drama movies, or best thriller movies? While you're at it, take note of all the new movies coming out this year, too.