When it comes to Robert Redford and his biggest cinema achievements, Butch Cassidy and the Sundance Kid will always be one of the first titles mentioned. After all, it combines Robert Redford and Paul Newman to create one of the best movies ever made. But actually, two of the best actors of all time also joined forces for a movie that, in Redford's mind at least, is even better.
After making Butch Cassidy with director George Roy Hill, Redford and Newman teamed with the filmmaker again for the 1973 masterpiece The Sting. A complex heist movie that also starred Jaws legend Robert Shaw, it won seven Oscars, including Best Picture and Best Director. In the same year The Exorcist and American Graffiti were nominated, that's quite the achievement.
In a 2018 interview, Redford told The Telegraph that, when reflecting on his career, he prefers The Sting to Butch Cassidy and the Sundance Kid. It's a controversial opinion but, actually, we think Redford is completely on the money.
"I enjoyed making both of them, but if I were to step way back and be truly objective, I would say, as much as I love Butch Cassidy, I think The Sting is one of the finest films ever, and that belongs to George Roy Hill," said Redford.
He added: "He's the guy who designed it, who came up with the music and did everything. I hadn't seen it for many, many years until recently when my daughter wanted me to see it again, and when I did, I realized: 'God, this is a really good movie. Really well made'."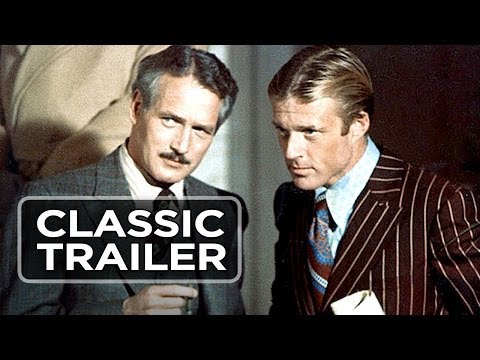 The Sting is a near-perfect heist movie, powered along by a meticulous Swiss watch of a screenplay that keeps the complex machinations of the story running. And that's before you even consider the intense charisma of the trio of stars at its center. When people say "they don't make new movies like that any more", they're talking about films like The Sting.
In the wake of its release, it scored ecstatic critical reviews from the likes of Roger Ebert and marched to victory at the Oscars. Not everyone was wowed, though, with prominent critic Pauline Kael bemoaning its visual claustrophobia and what she perceived as a lack of spirit.
Either way, The Sting's legacy is secure as one of the great '70s movies and the jewel in the crown of Redford-Newman collaborations. Your dad probably prefers Butch Cassidy, but he's wrong.
For more, find out why a great Robert Redford movie had to change title because of Paul Newman and learn about the time Robert Redford was rejected from a movie for being too cool. Elsewhere, look ahead to the great movies coming soon, including the Killers of the Flower Moon release date and the Dune 2 release date. And we've already seen Scorsese's latest gem, so check out our Killers of the Flower Moon review.