Today, Raveena shares a new video from her debut album Lucid.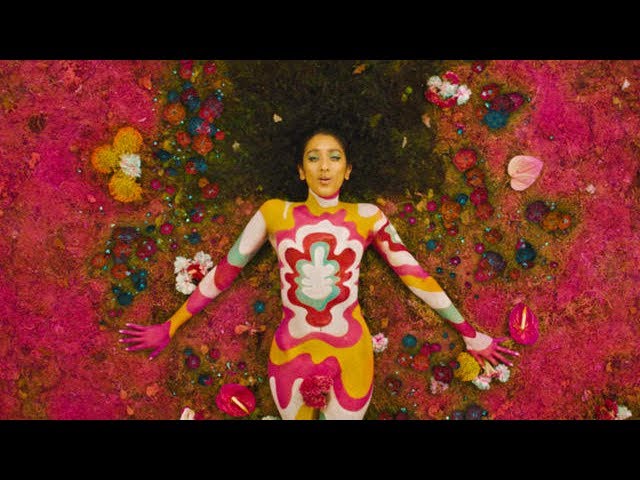 'Petal', creative directed and conceptualized by Raveena, is set in a lush and colorful world starring Raveena herself as an ethereal being. The experimental video begins with a mysterious close-up, then the camera slowly pans out revealing the artist in a field of otherworldly florals blooming and interchanging with the vibrations of her vocals. Her body is shown completely nude except for a rainbow of colors that are painted over her in psychedelic floral patterns. The motif mirrors her surroundings like an experimental watercolor painting.
"Petal" is the third visual from Lucid following "Stronger" and "Mama" and comes at the conclusion of her headlining North American tour. The tour was celebrated by fans as the 'softest tour of all time' referring to the serene and welcoming space Raveena creates at her shows through her soulful music and calm moments of mediation.
Lucid is the Queens-based singer's most ambitious work to date as she experiments with her vocal and emotional range more than ever before, building a world around her own self-discovery for listeners to experience alongside her. The album dives headfirst into the darker parts of Raveena's emotional spectrum as she embraces her spirituality and confronts trauma head-on. The album finds her searching for healing in real time as it pertains to her culture and her identity as the daughter of South Asian immigrants. Drawing inspiration from artists like D'Angelo, Bjork, Outkast, Erykah Badu and legendary Indian singer Asha Puthli, on Lucid, Raveena expands her sound to embody her full self with all its complexity and beauty.