There's something about that doll. Ever since the trailer for the new horror movie M3GAN dropped in October 2022, the titular character has become a camp viral icon thanks to her iconic hair flips, bizarre Uncanny Valley stare, and snatched dance moves.
2022 movies were a real turning point in terms of films being memeified. Our collective obsession with Spider-Man villain Morbius went so viral Sony even tried their luck with a second theatrical release. Shortly after, the viral #Gentleminions trend of showing up in suits to see the animated movie Minions 2 caused so much mayhem that cinemas implemented bans on formalwear and made the family movie one of the highest-grossing films of that quarter.
Moving forward, it has already become clear that 2023 movies like Cocaine Bear and Barbie may garner a similar, post-ironic shitposting buzz — but none of these new movies have sustained the buzz longer than M3GAN, which is finally being released in theatres this January.
But what's the reason behind this robot movie's staying power? For film critic and proud M3GAN stan Alistair Ryder, one big factor is the movie villain's relationship with queer internet culture.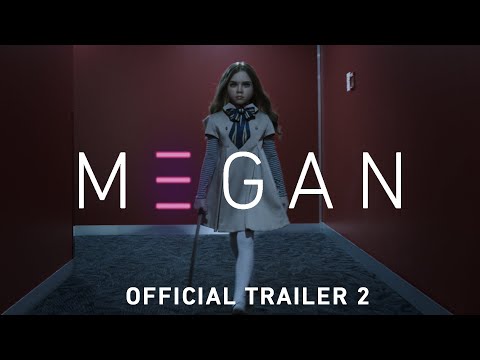 "Horror villains have been reclaimed by the LGBTQ community for many years," he explained. "But M3GAN feels like the first to have been designed with a queer fandom in mind."
The marketing for M3GAN certainly looks that way, with tweets by its distributor Universal making references to "slaying" and dancing M3GANs cropping up at screenings. Still, Ryder added that "it doesn't even feel like pandering to ensure the film gets that cult appeal."
"I think of her as equivalent to one of the main pop girlies, who have gigantic gay fanbases even though their main audience are tween and teen girls," he said. Ryder's sentiments are shared by fellow critic Luke Powell, who described M3GAN as a "camp icon."
"I feel these 'badass' female characters almost tend to become iconic within the LGBT community," he added. But beyond being "on her way giving gay," as journalist Jasmine Valentine put it, another thing that makes M3GAN prime meme material is the fact that, according to internet culture experts we spoke to, the slasher movie character is effectively a blank canvas.
"Don't be surprised when a seemingly basic or empty canvas of a character is filled with whatever the internet wants," cultural researcher Matt Klein told The Digital Fix. " It's an easy in. Odd-looking evil robot doll? 'Slay.' No one's stanning for the more nuanced and complex Lydia Tár in the same way."
Josh Chapdelaine, a social media lecturer at City University of New York, added that "M3GAN has leaned into digital culture from its debut trailer. M3GAN's rhythmic, emotionless movement creates the uncanny effect that invites meme creators to create, remix, and share."
So, as you can see, there's actual science and reason behind why we're all obsessed with M3GAN, but her pop culture moment is perhaps best summed up by college student and unapologetic #M3GANSWEEP advocate Joe. "She came to slay in more ways than one," he said, "And I think there's something very profound about that."
If you're left with any burning questions, like how to watch M3GAN or 'Who is the doll in M3GAN?' head to movie theatres from January 13 to get your answers.