Evernote Review

Evernote preview video
For some time I wanted a journal for note taking and to jot down ideas in the spur of the moment. Also, my short term memory tends to fail me often so I needed something I could use to jot down quick to do lists but a pen and paper didn't really appeal to me as it just seemed impractical. I needed some sort of diary application which I could edit wherever I was and whevener I wanted. Evernote does all this, and more!
The first thing I used Evernote for was to make a checklist of things I needed to do for the day. I made the checklist on my computer, pressed the sync and seconds later when I opened up the app on my phone, it was there which allowed me to tick off what I'd managed to do while I was out and about. But that's what we expected from this so I decided to put the app to the test.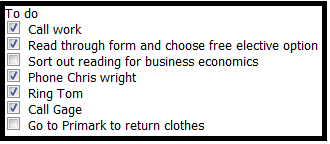 You can share pictures from your phone or tablet onto the app and seconds later they would be synced to your computer. You could then collate all the pictures together and have them in one note for easier viewing and sharing as you can share the note from the application to Facebook, Twitter and via email. You can load documents onto the app for access from another device and therefore the app begins to acts as a cloud storage device. Let's not get carried away and forget that this is a note taking device and it does note taking and editing brilliantly! You can even leave voice notes, ink notes (on a tablet or phone) and webcam notes which can later be retrieved from any device. You can also add hyperlinks to the text and insert tables anywhere in the note.
The application is very easy to use and honestly you only really ever need to use two buttons; New note and sync, but the possibilities with Evernote are endless, and the powerful search bar makes it easy to access notes, as you can add tags and locations to your notes. I now use it for everything from a quick note to photographs and even for storing my lecture slides, and when I'm offline, it just saves the note to the device until you can get online. Hit the sync button once you're online and your ready to go!
I can't think of any faults or any let downs I've had with the app both from my computer and on my phone and in fact, its exceeded all my expectations. Therefore this app gets a very strong recommendation to all.
Just be careful, I downloaded this to try and help me improve my short term memory. The Evernote slogan is "Remember Everything" after all. It's done the complete opposite as I now never have to remember anything, but it does make my life a whole lot easier.
Download Evernote
here
Last updated: 07/08/2018 01:28:44
Latest Articles