Never let it be said James Cameron doesn't suffer for his art. The long-time genre filmmaker has always gone above and beyond in his productions, taking on ambitious ideas and seeing them to fruition regardless of the cost. On The Abyss, that nearly cost him his life.
He revealed a close call while making one of his best movies at Beyond Fest, celebrating the 2K version of The Abyss. "We had the 'angels,' which were the safety divers that were right there, and each one was assigned to one or two of the actors and just kept them in sight the whole time. [But] they weren't watching me," he starts, per Variety.
"We were working 30 feet down. For me to be able to move the camera around on the bottom I wore heavy weights around my feet, no fins, a heavy weight belt around my waist," he continues. That's when one of the best science fiction movies started to become quite scary for him.
"Well, this thing had a piston servo regulator in it, so it was one breath… and then nothing," he continues. "Everybody's setting lights and nobody's watching me. I'm trying to get [underwater director of photography] Al Giddings attention on the PA but Al had been involved in a diving accident and he blew out both eardrums so he was deaf as a post, and I'm wasting my last breath of air."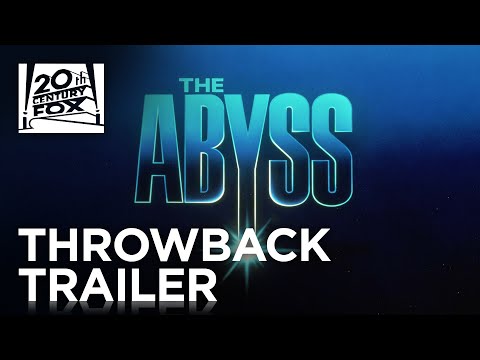 Uh oh. Then, when he is spotted by one of the 'angels', things go from bad to worse due to bad equipment. "The safety diver gets to be about ten feet from the surface and he sticks a regulator in my mouth that he didn't check. It had been banging around the bottom of the tank for three weeks and had a rip through the diaphragm," Cameron recalls. "So I purged carefully and took a deep breath – of water. And then I purged it again, and I took another deep breath – of water."
We can feel our lungs contract just reading that. Eventually, the filmmaker needed to take desperate measures. "At that point it was almost check-out point and the safety divers are taught to hold you down so you don't embolize and let your lungs overexpand going up," he says. "But I knew what I was doing. And he wouldn't let me go, and I had no way to tell him the regulator wasn't working. So I punched him in the face and swam to the surface and therefore survived."
Good lord. Cameron famously made a lot of The Abyss in a gigantic custom water tank, to simulate what it's like actually being underwater. The James Cameron movie involves the crew of a deep sea expedition discovering extra-terrestrial life. Starring Ed Harris, Mary Elizabeth Mastrantonio, and Michael Biehn, the film wasn't a massive hit upon release, but has gone on to become the cult classic of Cameron's repertoire.
Honestly, we already consider it one of the best alien movies ever, and now we might think even more highly of it, knowing what Cameron went through. And as far as when we can see the 4K re-release: "All of the mastering is done and I think it drops pretty soon."
The excitement is mounting! In the meantime, have a look at our guides to the Avatar 2 cast and Avatar 3 to see about Cameron's more modern exploits, and our new movies list will make sure you know what greats are coming up.