Given the success of the Indiana Jones movies in the 1980s, it's hardly surprising that imitations and parodies cropped up. Some were successful, such as Romancing the Stone and The Jewel of the Nile, but some were less-so. And unfortunately for Richard Chamberlain and Sharon Stone, their take on King Solomon's Mines was one of the more disastrous ones.
The Star Wars parody Spaceballs was well received in 1987, but unfortunately the Indiana Jones parody released in 1985 was not as warmly appreciated. The 1885 novel King Solomon's Mines was previously adapted into movies in 1937 and 1950. The novel's hero is Alan Quartermain – who went on to inspire characters which have interestingly been played by two James Bonds – Sean Connery in The League of Extraordinary Gentlemen and Timothy Dalton in Penny Dreadful.
It probably would have been wise to not tie an Indiana Jones parody to a well-known book that had already been successfully adapted. Jonathan Rhys-Davies even appeared in the parody to really hammer the point home. Critics panned the movie, saying it wasn't as good as the version starring Deborah Kerr and Stewart Granger. There was probably some confusion over it being intentionally cheesy and not taking itself seriously.
Surprisingly, King Solomon's Mines did make enough money for there to be a sequel – Allan Quartermain and the Lost City of Gold – released in 1986. Chamberlain and Stone even returned for more punishment. But this was received even more poorly than the first movie, and the planned final movie in what was supposed to have been a trilogy was abandoned.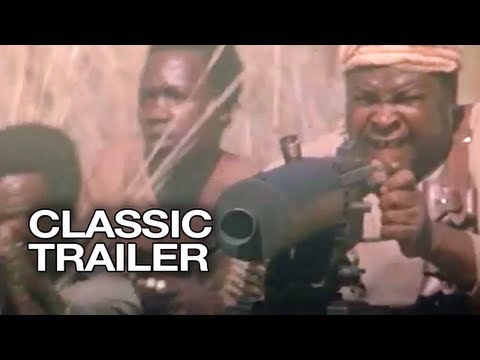 The Victorian explorer or hunter has long been a source of fascination – as can be seen in Charlie Hunnam's best movie The Lost City of Z (2016). Comedy movies have recently returned to these kinds of adventure stories for inspiration – such as Dora and the Lost City of Gold (2019) and Sandra Bullock's The Lost City (2022 – which can be directly traced back to Romancing the Stone).
Dwayne Johnson has also single-handedly tried to revive the adventure movie with the likes of Jumanji, Jungle Cruise, and Rampage. Check out our guide to the best Dwayne Johnson movies find out more.
Find out how to watch the Indiana Jones movies in order and read our Indiana Jones 5 review to find out why it may have struggled at the box office. Also find out where the Indiana Jones cast are now.