What is the Good Omens season 2 release date? Based on the hit novel by Neil Gaiman and Terry Pratchett, Good Omens was a hit when the first season released in 2019. Full of wisecracks, unbelievable magic, and apocalyptic action, the adaptation charmed us all and left fans begging for more.
Good Omens is a fantasy series that follows the unlikely friendship between the demon Crowley (David Tennant) and the angel Aziraphale (Michael Sheen). The two have lived on Earth since the beginning of time and, over the centuries, developed a bond and a soft spot for their mortal home – which becomes a problem when Armageddon arrives. The two join forces in the TV series to foil both Heaven and hell's plan and stop the world from crumbling to the antichrist.
Needless to say, there are plenty of unanswered questions, and fans have been itching for news on the show's return. If you're looking for information about the Good Omens season 2 release date, cast list, and plot, we've got you covered.
Good Omens season 2 release date
Good Omens season 2 will release on Friday, July 28, 2023.
That means we won't have long to wait before seeing Crowley and Aziraphale once again. Still, there is some bad news to add to this happy update, friends.
As the 2023 Writers Strike began, Gaiman reassured fans by saying that the release of Good Omens season 2 would not be affected by the walkouts but added he might not be able to support the show's release due to solidarity with the unions.
Good Omens season 2 cast
David Tennant and Michael Sheen will return as Crowley and Aziraphale, respectively, for Good Omens season 2. This makes sense since we can't have Good Omens without our main devil and angel, can we?
Out of this world: The best sci-fi series
Considering the speculation around the series being a prequel or an origin story focusing on angels, you may have already guessed that Jon Hamm will be making an appearance as the Archangel Gabriel again, too (yay).
Joining the familiar band of devils and angels are Liz Carr (Silent Witness) as Saraqael the angel and Quelin Sepulveda as Muriel. Mark Gatiss, Steve Pemberton, Reece Shearsmith, and Niamh Walsh are also confirmed, with Tim Downie, Pete Firman, Andi Osho, and Alex Norton joining the cast.
Unfortunately, not every familiar face is coming back: Benedict Cumberbatch is out for season 2, and Frances McDormand won't reprise her role as the show's narrator – also known as God.
The Good Omens season 2 cast list includes:
David Tennant as Crowley
Michael Sheen as Aziraphale
Derek Jacobi as Metatron
Mark Gatiss as Harmony
Steve Pemberton as Glozier
Reece Shearsmith as William Shakespeare
Quelin Sepulveda as Muriel
Niamh Walsh
Siân Phillips
Tim Downie
Pete Firman
Andi Osho
Alex Norton
Ty Tennant
Peter Davison
While it may not be actor news, it has been confirmed that Gaiman will return as the show's executive producer and co-showrunner. Joining Gaiman in the next comedic chapter is Douglas Mackinnon, who has been rehired to direct Good Omens season 2.
Is there a Good Omens season 2 trailer?
The Good Omens season 2 trailer hasn't been released yet. Once the first teaser of the upcoming season is out, we'll let you know.
In the meantime, we got a video announcement for season 2 in June 2021, which you can see below. Gaiman also put up Aziraphale's Diary from an upcoming scene in Good Omens season 2 to whet your whistle for the kind of lore we'll be getting.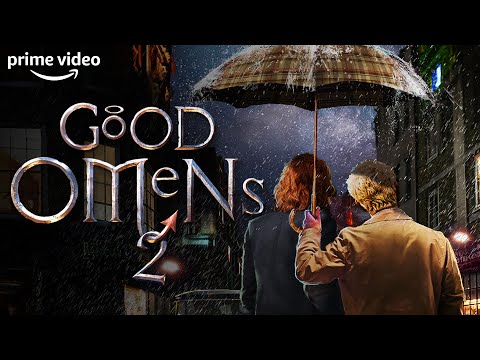 Good Omens season 2 plot speculation
Neil Gaiman revealed Good Omens season 2 will offer an insight into where the angels come from, hinting at flashbacks or maybe an origin story.
However, it's a bit tricky piecing together specific details on this potential origin right now. This is because Good Omens season 2 will be different from the original book that Gaiman wrote with Terry Pratchett.
But fear not fans, Gaiman confirmed that the upcoming season did have input from Pratchett before he passed away. There were apparently always ideas from the two for a sequel – which are now being used for the show.
"I got to use bits of the sequel in Good Omens; that's where our angels come from," Gaiman said in a press release. "Terry's not here any longer, but when he was, we had talked about what we wanted to do with Good Omens, and where the story went next."
Gaiman has also teased fans about a potential romance between everyone's favourite angel and devil. Let's not lie, Crowley and Aziraphale have dynamite chemistry, and the internet has been buzzing about their potential relationship.
Where can I watch Good Omens season 2?
Like the first season, Good Omens season 2 will be available to watch on Amazon Prime Video.
So far, it is looking to be an exclusive for the streaming service, so if you want to watch the iconic and unlikely otherworldly duo, be sure to renew your subscriptions. However, if you are in the UK, it may be coming to the BBC, so keep your fingers crossed.
If you want to watch Good Omens season 2, sign up for Amazon Prime via our link here.
How many episodes of Good Omens season 2 will there be?
There will be six episodes of Good Omens season 2. That matches up with the first season's tally, too.
For more upcoming small-screen misadventures, check out our guides for The Crown season 6 release date and The Last of Us season 2 release date. However, if you're looking for more Gaiman goodness, you'll want to read about The Sandman season 2 release date.
For more top picks, here are our lists of all the new movies of 2023 and the best movies of all time.