2024 will mark the 40th anniversary of the original Ghostbusters, shortly after the Ghostbusters 4 release in December 2023. But for the 30th anniversary in 2014, Ivan Reitman revealed to Entertainment Weekly that Rick Moranis' role of Louis Tully was originally written for none other than John Candy.
Reitman explained that in the original Ghostbusters; "John Candy was supposed to be the neighbor down the hall, but he didn't like the treatment that I had sent. He didn't get it. He said, 'Well, maybe if I played him as a German guy who had a bunch of German shepherd dogs?' I said, 'Well, maybe you can do it with an accent, but I don't think all that's really necessary.'"
Reitman continued; "He basically passed, and I called up Rick Moranis who I knew in Toronto, and said, 'Look, Rick, why don't you take a look at this. I think it's going to be good.' He read it in like one hour, called me up, and said, 'Wow, please thank Candy for me. This is the greatest thing I ever read.'"
Casting director Karen Rea recalled of the classic 80s movie; "We had stand-up comedians come in for that role, but once you saw Rick do it, that was it. You don't go any further. Rick must've fallen in love with the script, because he came in and basically said to Ivan, 'Look, this is kind of the way I see the guy.' Then he went into the character of Louis, and just started gimping around the room, and that was it. You know John Candy would've been fabulous, but Rick brought a whole different thing to it. He really made our movie special."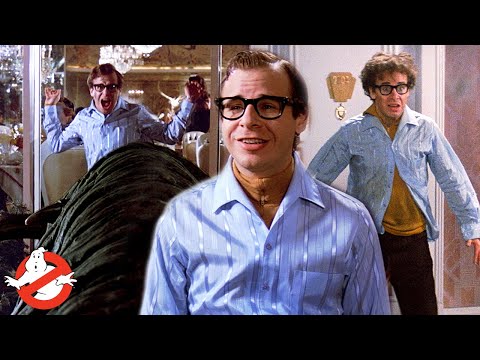 After Ghostbusters, Moranis would go onto star in some of the best comedy movies of the 80s and 90s including; Brewster's Millions, Spaceballs, Honey I Shrunk the Kids, Parenthood and The Flintstones. He also starred in one of the best musicals of all time – Little Shop of Horrors. Tragically, Moranis hasn't appeared in a live-action movie since 1997, as his wife died in 1991 and he prioritized spending time with his children.
Check out our guide to the best family movies and the best feel-good movies. If you like watching Ghostbusters as a family, check out some of the other best scary movies for kids.