Jason Momoa has become one of Hollywood's go-tos when it comes to action movie stars, having worked on hit films such as the DC movie Aquaman and the science fiction movie Dune. But before his time as a superhero, he found his big break as the Game of Thrones character Khal Drogo.
For readers needing a Game of Thrones refresher, Khal Drogo was a chieftain of a Dothraki Khalasar. He was also a legendary warrior who was undefeated. So, with that character description in mind, Momoa put his all into his Game of Thrones audition – performing a real-life ceremonial dance that displays strength.
In a video recording of Momoa going after the role of Khal Drogo, the actor performed the Haka, a traditional dance that has origins in the Māori culture. The Haka is also used by the All Blacks New Zealand rugby team to display pride, strength, and to challenge opponents.
During the recording, Momoa stomps his feet, slaps his chest and performs the Haka with vigour. And while performing a dance for a TV series audition may seem like a strange concept, when you start to think about Khal Drogo's silent yet terrifying demeanour, it makes perfect sense.
In an interview with The New York Times, Momoa explained his choice to do the Haka in his audition tape for the hit fantasy series. "On Game of Thrones, [Drogo] doesn't say much. So how do you convey him? There's nothing in the script. So I said: 'I have this idea. Is it OK to do [a dance] before the audition?'," the actor said.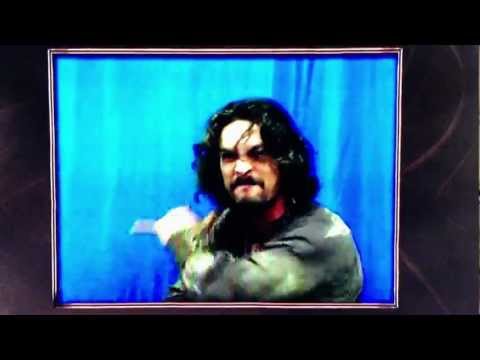 "And they were like, 'Oh, sure.' Then I did the Haka. It was challenging to do the audition afterwards — I couldn't stop my heart from beating," Momoa continued. "The first time I did it, they were very scared. But then they wanted me to come back in so they could put it on tape."
Ultimately, Momoa got the part, and thanks to the Haka, fans got to see the star perfectly capture Khal Drogo. The actor has left the world of Game of Thrones since – so don't expect to see him in the House of the Dragon season 2 any time soon!
Fans can next see Momoa in the new movie Aquaman 2 on December 25, 2023, and in the Fast and Furious movie Fast and Furious 10 on May 19, 2023.