When is the Five Nights at Freddy's movie release date? Five Nights at Freddy's has developed a bizarre online identity, with the game taking over the communities of YouTube Let's Plays and theory videos to such a fervent degree that seeing the spooky series everywhere forced players to hate it, subsequently branding it as childish cringe. But let's be clear about something – at one point, we were all obsessed with Five Nights at Freddy's, and we're stoked at the concept of a FNAF movie.
The game's simple premise of pitting a new security guard against the "quirky" animatronics at Freddy Fazbear's Pizza for a week of overnight shifts was a stroke of indie genius that makes the most out of its concept in the first title. Still, it then created a vast universe of plots, theories, games, novels, and toys. It was a global phenomenon created by horror game enthusiasts and YouTubers alike. Which meant it was only a matter of time before it went to Hollywood.
There's a lot of expectation for the upcoming Five Nights at Freddy's movie, especially with so many narrative threads to follow and so many characters to make our hero. There are so many questions that come with the reveal of the video game movie, so it's time to ask the question – what's going on with the Five Nights at Freddy's movie? Here's everything we know.
Five Nights At Freddy's movie release date
The Five Nights At Freddy's movie will be released on Friday, October 27, 2023. We've also got good news if a mechanical singing bear has you trapped in your house, the film will debut in cinemas and on Peacock at the same time.
Who's in the Five Nights At Freddy's movie cast?
Scream star Matthew Lillard and Josh Hutcherson, best known for playing Peeta in the Hunger Games movies, are reportedly on board to star in the FNAF movie. The full Five Nights At Freddy's cast list is as follows:
Josh Hutcherson as Mike Schmidt
Matthew Lillard as William Afton
Piper Rubio as Abby Schmidt
Mary Stuart Masterson as an unnamed villain
Kat Conner Sterling
Elizabeth Lail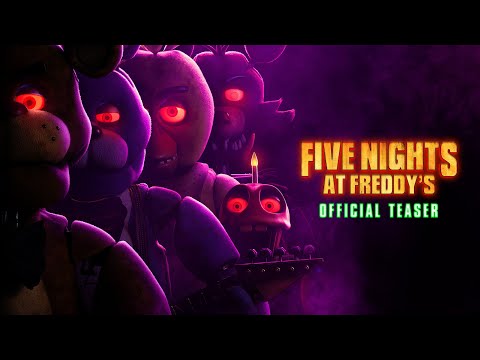 Five Nights at Freddy's movie trailer
A short FNAF movie trailer dropped on May 17, 2023. The brief teaser is a parody of those awful induction tapes you used to get when starting a new job, and we also get to see Mike meet the evil animatronics for the first time.
What's the Five Nights At Freddy's movie plot?
The FNAF movie will adapt the events of the first game, following security guard Mike Schmidt (Hutcherson), who takes a job working overnight at Freddy Fazbear's Pizza, a 'Chuck-E-Cheese-esque' kiddie restaurant.
As the night wears on, animatronics of the restaurant's mascots begin to move and shift before making an effort to corner and kill Schmidt. It's a pretty simple story – but it only goes on to get more convoluted.
Later games go into detail about the events that led to the closure of the restaurant that was teased in the first game, commonly known as "the bite of '87" – an incident that saw one animatronic bite down on someone's head, entirely severing their frontal lobe.
We don't currently know who's responsible for the bite — although fans believe either Foxy or Bonnie are responsible — so it's possible we'll finally get some clarity on that traumatic event. Finally, it's likely the film will explore the mysterious "purple guy", aka William Afton (Lillard), who may or may not be responsible for the animatronics going haywire.
Where can I watch the FNAF movie?
The FNAF movie is being released in theatres and on the streaming service Peacock on October 27, 2023
Who's making the Five Nights At Freddy's movie?
There has been a lot of speculation that the FNAF movie simply won't work if it falls into the wrong hands – but luckily, its production company is one known for making some of the best horror movies, just like the FNAF film deserves.
The film is firmly in the camp of Blumhouse Productions, the producers behind the likes of Get Out, Happy Death Day and The Black Phone. The studio has always had a deep love and affection for horror, and it seems as though the man at the top, Jason Blum, has a lot of faith in their adaptation.
Jason announced a swathe of info about the film in one tweet, which gave fans all the information they could need for months.
"#jimhensoncreatureshop is working on our animatronics," he says. "Emma Tammi is our director. Filming on #FNAF begins in February 2023. Boom." Boom indeed.
There's a lot to unpack here, so let's start with the big one – the Jim Henson Creature Shop, the special and visual effects team founded by the legendary puppeteer of The Muppets Jim Henson, will be the team behind bringing Freddy and his freaky pals to life. This is remarkable news, as anyone who has seen The Muppets will know the Creature Shop knows what they're doing. Five Nights at Freddy's is little without its animatronics, so it's good to know that it's in safe hands.
It's a lot for sure, and there's a lot to dig up and uncover for long-term fans. It remains to be seen if the film will give fans the answers they so crave or go for a hard reset to effectively reboot the franchise in a cinematic setting – but damn, is it going to be exciting to watch the fallout regardless.
And that's everything we know about the FNAF movie. If you love a good scare, check out our guides to the Insidious 5 release date, Saw 10 release date, and The Conjuring 4 release date. We've also got a guide to all the new movies coming in 2023 and a list of the best movies ever made for you to check out.