One last look before Scorsese's new gangster epic premières at NYFF tomorrow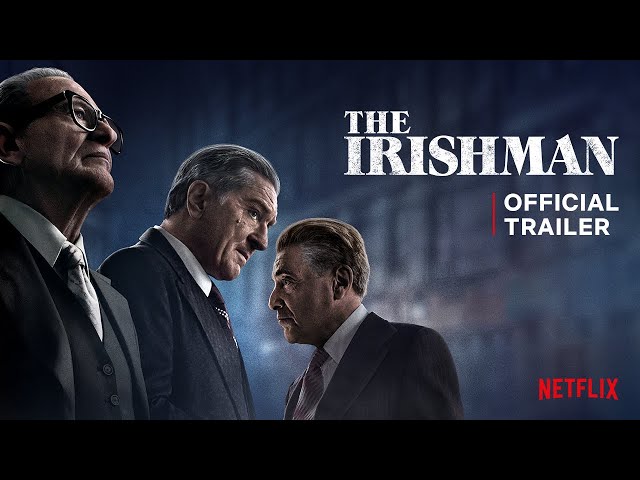 With Martin Scorsese's The Irishman set to appear at the New York Film Festival tomorrow, a last trailer for the film was released during The Jimmy Fallon Show last night. The run time has already been confirmed at a mighty three hours and thirty minutes, although anyone expecting a style and tone similar to Goodfellas will be disappointed. One of the film's producers, Jane Rosenthal, told Deadline a few days ago: "What will surprise you is, as a Scorsese movie, it is a slower movie. It doesn't have the kind of intensity — the visual intensity — as a Casino, as a Goodfellas. It is guys looking at themselves through an older perspective."
Given the extensive CGI work that has been used to take years off the characters (De Niro will look as young as 24 in some scenes) a lot is going to depend on how well those moments work in context of the amount of screen time they take up. Scorsese has been worried about it and with a film this long if the effects do not stand up there will be nowhere to hide. We'll know soon enough as it also plays at the London Film Festival before hitting UK cinemas in a couple of weeks. Watch the final trailer for The Irishman above.
This is an epic saga of organized crime in post-war America told through the eyes of World War II veteran Frank Sheeran, a hustler and hitman who worked alongside some of the most notorious figures of the 20th century. Spanning decades, the film chronicles one of the greatest unsolved mysteries in American history, the disappearance of legendary union boss Jimmy Hoffa, and offers a monumental journey through the hidden corridors of organized crime: its inner workings, rivalries and connections to mainstream politics.
Also starring in the support cast are the likes of Harvey Keitel, Anna Paquin, Jesse Plemons, Bobby Cannavale, Stephen Graham, Ray Romano and Jim Norton.
The Irishman premières at The New York Film Festival on September 27. It also plays at the London Film Festival before arriving in select US and UK cinemas on November 1 and 8 respectively, and finally landing on Netflix November 27.