Alice Waddington's directorial debut plays at the Fantasia International Film Festival tomorrow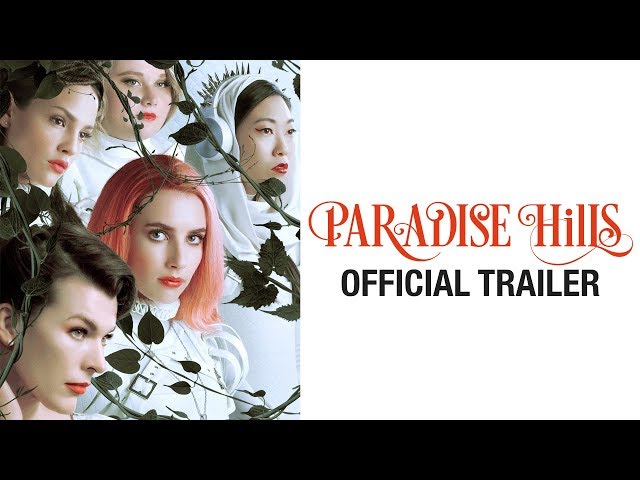 Paradise Hills made its debut at Sundance at the start of the year, largely picking up positive reviews and it makes a second festival appearance at the Fantasia International Film Festival tomorrow. It's the debut of Spanish director, Alice Waddington, and brings with it quite an impressive cast, with the likes of Emma Roberts, Awkwafina, Danielle Macdonald, Milla Jovovich and Eiza Gonzalez all featuring. It's a beautifully shot fairy tale-style story that takes place in a heightened, patriarchal environment where visitors are moulded into becoming the 'perfect' woman. The trailer really is a feast for the eyes, so watch the trailer for Paradise Hills above to see for yourself.
On an isolated island, Uma wakes up to find herself at Paradise Hills, a facility where high-class families send their daughters to become perfect versions of themselves. The facility is run by the mysterious Duchess where calibrated treatments including etiquette classes, vocal lessons, beauty treatments, gymnastics and restricted diets, revolve all physical and emotional shortcomings within two months. The outspoken Uma finds solace and friendship in other Paradise Hills residents — Chloe, Yu and Mexican popstar Amarna. Uma soon realizes that lurking behind all this beauty is a sinister secret. It's a race against the clock as Uma and her friends try to escape Paradise Hills before it consumes them all.
Aside from directing, Waddington also has a writing credit, along with Nacho Vigalondo (Timecrimes, Colossal) and Brian DeLeeuw.
Paradise Hills is still working the festival circuit and will be distributed by Samuel Goldwyn Films in the US, although no date has been set at the moment.