Returning to London for its seventeenth year, the Kinoteka Polish Film Festival runs from 4 to 18 April at various venues.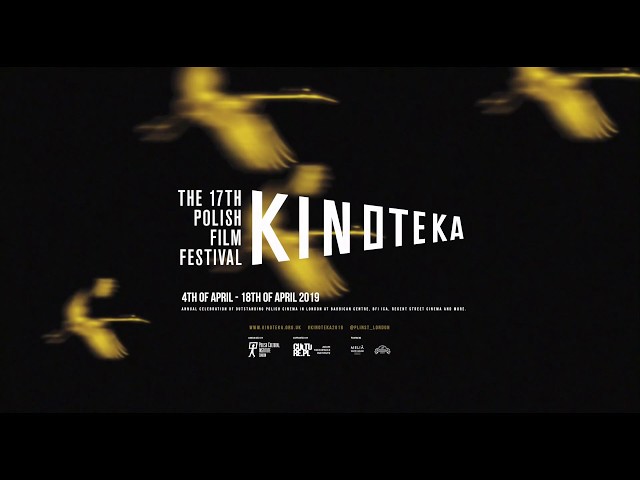 The Kinoteka Polish Film Festival returns to London's festival scene from 4 – 18 April 2019, bringing with it an exhilarating range of new Polish film and culture as well as highlighting lesser known gems ripe for rediscovery and celebrating work influenced by Polish masters.
The festival's highlights include an immersive musical and dining experience for Cold War, which closes the Festival, a focus on new female filmmakers, veteran director Krzysztof Zanussi presenting his new film Ether; and a night dedicated to 90s Polish rave culture. The festival will take place at the following venues: Baltic Restaurant, Barbican, BFI Southbank, Close Up Cinema, Frontline Club, ICA, Tate Modern, The Horse Hospital, Regent Street Cinema and Watermans Art Centre.
CLOSING NIGHT GALA: PAWEŁ PAWLIKOWSKI'S COLD WAR
The festival comes to an end with a special screening of the award-winning Cold War, attended by director Paweł Pawlikowski. This is followed by an immersive dining and musical experience at the Baltic Restaurant and Bar, where participants will be treated to a live concert from musician Zbigniew Namysłowski, former collaborator with legendary film composer Krzysztof Komeda, followed by guest chefs serving a gourmet menu inspired by Polish folk cuisine.
NEW FEMALE FILMMAKERS
Female filmmakers from Poland are celebrated at the BFI Southbank with Jagoda Szelc's deeply unsettling psychological horror film Monument, Olga Chajdas's award-winning LGBT romance Nina (above) and the disorientating and acclaimed new film from director of The Lure, Agnieszka Smoczyńska's Fugue.
RETROSPECTIVES
STANISŁAW LEM
This major retrospective of one of the godfathers of modern science fiction takes place at the Barbican and includes the rare Russian television film Solyaris (above) and the East German space opera Silent Star. The Quay Brothers also present their film Mask followed by a panel discussion about Lem's legacy and the challenges of adapting his work to the screen.
ON THE SILVER GLOBE
This long lost SF masterpiece from maverick filmmaker Andrzej Żuławski screens at The Horse Hospital alongside an exhibition of costumes and ephemera from the film. Shut down by the Communist party in 1977 after 80 percent of the footage was shot, the film was luckily saved by the crew who ignored orders.
KRZYSZTOF ZANUSSI
The renowned director will attend the festival to present his new film Ether (above) and introduce his 1971 classic Family Life.
WITOLD SOBOCIŃSKI
The late cinematographer is celebrated at Close-Up Cinema with four archive screenings: Zanussi's Family Life (above), Jerzy Skolimowski's Hands Up!, The Hour-Glass Sanatorium from director Wojciech Has and Andrzej Żuławski's The Third Part of the Night.
NEW POLISH CINEMA
Taking place at the Regent Street Cinema, the ICA and Watermans, the New Polish Cinema programme offers a selection of ten films encompassing the exciting breadth of contemporary Polish filmmaking, from the brutal realism of Piotr Domalewski's Silent Night to Filip Bajon's epic costume drama The Butler via Paweł Maślona's hysterically funny Panic Attack. (above).
DOCUMENTARIES
The ICA's festival documentary strand includes an intimate look at life's final moments in End of Life (above) and an examination of the provocative work of Walerian Borowczyk in Love Express: The Disappearance of Walerian Borowczyk.
OPENING NIGHT GALA
The festival kicks off at the Regent Street Cinema with the gala screening of Another Day of Life, a beautifully animated adaptation of acclaimed Polish journalist Ryszard Kapuściński's early book. The screening will be introduced by the writer and The Guardian's former associate foreign editor Victoria Brittain, who has extensive experience in reporting from global conflicts.
KINOTEKA AT THE BELFAST FILM FESTIVAL
Northern Ireland's leading film festival plays host to three screenings of contemporary Polish films, alongside a guest appearance from renowned Irish director Lenny Abrahamson, who will introduce his favourite Polish cinema classic. Films showing are Another Day of Life, The Last Family (above), Fugue and Werewolf.
SPECIAL SCREENINGS AND EVENTS
KINOTEKA X UNIQLO TATE LATES
In collaboration with UNIQLO Tate Lates, the festival presents an exclusive free ticketed evening at the Tate Modern dedicated to 1990s Polish rave culture.
KINOTEKA X FRONTLINE CLUB – 53 WARS
Based partly on an autobiographical book by Grażyna Jagielska, 53 Wars was nominated for awards at the Torino Film Festival, Karlovy Vary Film Festival, and Camerimage. This screening will be followed by a Q&A with Grażyna Jagielska and Wojciech Jagielski.
CHILDREN'S EVENTS
The festival's family-friendly screening of Journey for One Smile (1972) at the Regent Street Cinema will include a Polish treasure hunt with discovery trails, map reading and riddles. This will give you a head start on Duduś and Poldek's fun-filled adventure from the south to the north of Poland.
Look out for further coverage of the featival from The Digital Fix.
For further information and booking details, please visit the festival website.