Who is in the Evil Dead Rise cast? Once again, more hapless victims are going to fall foul of the Necronomicon. Things are quite different this time though, because there are new protagonists and a new setting – still the same Deadites, though.
Two estranged sisters, Beth and Ellie, face the book of the dead in their LA apartment building, about the furthest away you can get from the rickety cabin of the original horror movie. Lee Cronin is directing the monster movie, hand-picked by creator Sam Raimi for the sequel. Don't worry, Bruce Campbell is still involved – he's just behind the camera as executive producer.
It's all very exciting for Evil Dead fans, and audiences naturally want to know more about who is in the Evil Dead Rise cast. We've pored over the ancient texts (read: collected everything from the information superhighway) to bring you all the necessary details on the new movie in the Evil Dead franchise.
Who's in the Evil Dead Rise cast?
Bruce Campbell will not star in Evil Dead Rise cast, but there are plenty of new actors to make up for it. After the cancellation of Ash Vs Evil Dead, Campbell announced that was retiring from playing the chainsaw-handed character.
For Rise, he's just an executive producer. Alyssa Sutherland and Lily Sullivan star as the sisters, Ellie and Beth, respectively. They're joined by Mia Challis as Jessica, with Gabrielle Echols, Morgan Davies, and Nell Fisher, as well as a large group of other newcomers.
The confirmed Evil Dead Rise cast is as follows:
Alyssa Sutherland as Ellie
Lily Sullivan as Beth
Mia Challis as Jessica
Gabrielle Echols as Bridget
Morgan Davies as Danny
Nell as Fisher Kassie
Richard Crouchley as Caleb
Mirabai Pease as Teresa
Anna-Maree Thomas as Jessica
Jayden Daniels as Gabriel
Billy Reynolds-McCarthy as Jake
Tai Wano as Scott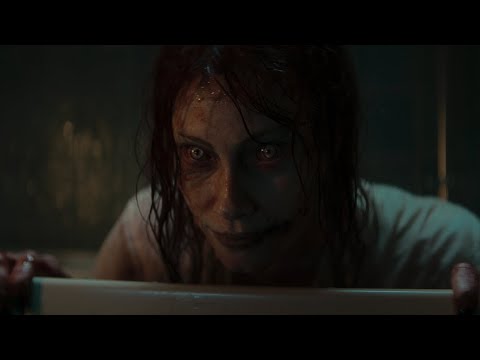 Is there an Evil Dead Rise trailer?
There is an Evil Dead Rise trailer, and it's a tense, gruesome affair. You can check it out above. The footage tees up a story where the lead characters, Beth and Ellie, are haunted by the presence of the Necronomicon, which is having a particularly negative effect on one of them.
Later, when they reunite, that trauma comes back to haunt them, literally. Lots of teeth and blood and broken glass.
What happens in the Evil Dead Rise plot?
Evil Dead Rise leaves cabins behind to relocate to Los Angeles, as two sisters reckon with the appearance of Deadites in their apartment building. The estranged siblings are having a reunion before the Necronomicon ruins everything. So rude.
It primarily focusses on Ellie being possessed and attacking her family. Bridget also gets possessed, and the audience is follows the duo of Beth and Kassie as they attempt to escape. You can learn more about the plot in detail with our guide to the Evil Dead Rise ending explained.
Evil Dead Rise release date and reviews
The Evil Dead Rise release date was on April 21, 2023. Originally, the plan was for the sequel to be a streaming service exclusive sometime in 2022. However, buzz for the project has gradually built up until it justified being released on the big screen.
This is somewhat surprising, as Evil Dead hasn't generally done well at the box office. The roots of the franchise are in home video, and on paper, streaming was sensible. But now we're getting more of the Necronomicon in cinemas.
And we're glad it did, because Evil Dead Rise has subsequently received rave reviews. In our own Evil Dead Rise review we praised the movie for its embrace of all things gruesome. Meanwhile, the movie currently holds an impressive 89% score on Rotten Tomatoes.
That's everything worth knowing about Evil Dead Rise. For more terrors, check out our guides on the Halloween movies in order and the Texas Chainsaw Massacre timeline.