Who is the mom in the Evil Dead Rise trailer? The latest horror movie in the Evil Dead franchise casts away many of the hallmarks. We're in an LA apartment instead of a cabin, Bruce Campbell's Ash isn't involved at all, and so far, it seems like everyone's keeping all their limbs.
Lee Cronin is directing the feature, while Sam Raimi and Campbell serve as producers. Two things that haven't changed are the Deadites and the Necronomicon, the book in the Evil Dead Rise trailer. These combine to form the recurring movie villains of the Evil Dead, but the Rise trailer involves a mysterious mother who's giving everyone a lot of grief.
She's a new character to the property, and she presents a foreboding threat to everyone else in the cast. So, who is the mom in the Evil Dead Rise trailer? Put away that dusty old encyclopedia because we have the answer for you.
Who is the mom in Evil Dead Rise?
The mom in Evil Dead Rise is Ellie, played by Alyssa Sutherland. She's the older sister to Beth, the main protagonist, and she has three children. In the monster movie's plot, Beth and Ellie have a reunion that's disturbed by the Necronomicon and those blasted Deadites.
The trailer has revealed this is more insidious than a mere ghoulish invasion. Ellie becomes possessed by the horrific spirits, forcing Beth to try and protect the kids from their possessed mom. How exactly this happens – who opens the Necronomicon or summons the Deadites – remains to be seen, but the ensuing chaos is absolutely gruesome by the looks of things.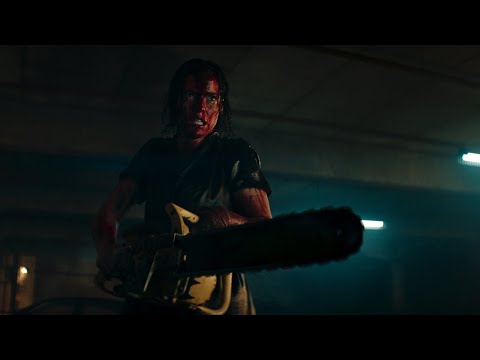 What are Deadites?
Deadites are evil spirits who possess people. They can be summoned to Earth using a book full of dark magic known as the Necronomicon, and the Evil Dead franchise has followed many misadventures based on that text.
In Evil Dead Rise's case, Ellie gets taken over, which gives her many strange inhuman powers like the ability to climb walls and endure horrific pain. You can tell a Deadite by their eyes and mannerisms; they'll always seem off. Their sickly skin tone doesn't help, either.
The ultimate goal of an Evil Dead movie is to kill Deadites and shut the Necronomicon once again. Doing that is usually a gory affair, but Beth seems up to the task. If you want to know more about the film, check out our guide to the Evil Dead Rise release date.
Have a read of our list of the upcoming new movies for more coming later in 2023 and the best zombie movies for more of the undead.