Midnight Cowboy still holds the record for being the only X-rated movie to ever win Best Picture at the Oscars. The 1969 bromance movie stars Jon Voight as a naive young man who travels from Texas to New York City and becomes a sex worker and Dustin Hoffman as Ratso Rizzo, a sickly street hustler and con man.
Midnight Cowboy contains the most famous and oft-quoted line of Dustin Hoffman's career – "I'm walkin' here!" But the moment arose spontaneously while they were filming on the streets of New York without a permit. According to a 50th anniversary retrospective in EW, "the film had a tiny production budget and they couldn't afford to get the requisite permits to shut down Sixth Avenue for a day of filming and pay extras to populate the scene."
Hoffman explained; "We had to steal the shot, which is what we did. There was a van on the other side of the street, and Schlesinger was inside [with] the camera people. You couldn't see from outside, but they could see from inside — they shot that scene [with a] long lens."
Hoffman continued; "We did about eight, nine takes, I think, before we got it where [the traffic light] turns green and we could keep walking. That taxi almost hit us because it jumped the signal. That aspect of almost being hit was nowhere written in the scene. Probably what I was really saying was, 'Hey, we're making a movie here!' But it just came out the way it came out."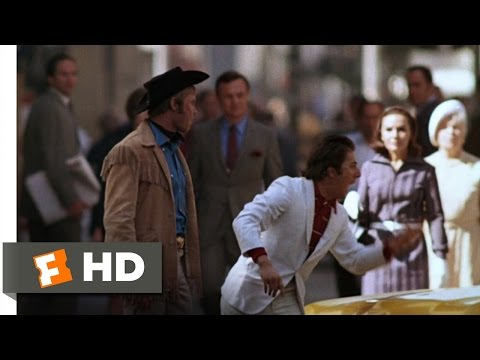 Filming on the streets of New York without a permit is a guerilla filmmaking tactic that would go on to be used by the Safdie brothers for their 2017's movie Good Time. Their stealthy hidden camera techniques resulted in Robert Pattinson's best movie to date.
Check out our guide to the best drama movies and the best actors of all time.