From Christopher Nolan's very first Batman movie, it became apparent that we were seeing something entirely new. Christian Bale brought a dark, contemplative edge to Batman that was lacking in previous big-screen iterations. But what Nolan's Batman needed most of all, was a foil.
This happened at a time when cinematic universes for superhero movies weren't a thing: no MCU, and no DCU. Just Batman, Gotham, and the most fearsome Batman villain of them all: Joker.
After producers made Heath Ledger their Joker actor of choice, prosthetics supervisor Conor O'Sullivan got to work trying to bring a more scarred and sinister version of the Joker to life. And the result was like nothing we'd ever seen before in any of the DC movies in order. But what was O'Sullivan's inspiration for the Joker's character design? For a comic book movie, the answer is more grounded than you think.
"I was never given a concept or reason for the scarring before I started on the design of the Joker's scars," he explained. "Once I had it in my mind that it was going to be scars, rather than a fixed smile, I immediately thought of the punk and skinhead era and some unsavoury characters I had come across during this time. "
O'Sullivan explained that during this era, attackers would scar their victims with a very specific wound known as the 'Glasgow' or 'Chelsea smile.' The attacker would make a cut from the corner of a victim's mouth up to their ears in a crescent shape for the scar to mimic a 'smile.'
"My references had to be real," he added. "A delivery of fruit machines was made to the estate near my workshop and the man delivering them had a 'Chelsea smile'. I plucked up the courage to ask him for a photo and he told me the story of how he had got his scars while being involved with a 'dog fight'; needless to say I didn't pursue the matter, but the photos proved to be very useful reference."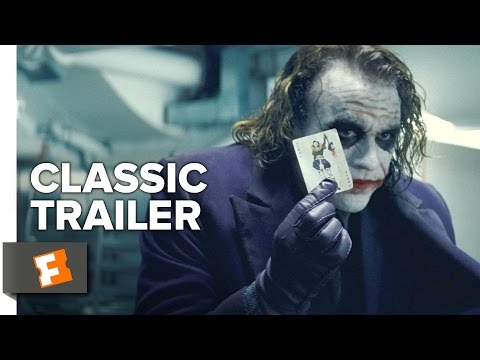 Now, over a decade later, we can't imagine Joker without also thinking about his Glasgow smile. It's the finishing touch that helps elevate Ledger's Joker to one of the best movie villains we've ever seen. It's also clear that this more scarred version of the Joker had an influence on Barry Keoghan's iteration of the character, whom we met in the post-credit scene of The Batman.
So, while we might not meet the Joker in Chapter 1 Gods and Monsters, we expect to see him again in The Batman 2. In the meantime, check out our guides to some of DC's other new movies, including Aquaman 2, Joker 2, and Superman Legacy.