Bryan Cranston has shared that it only took him one take to absolutely nail the iconic Breaking Bad pizza roof scene. Despite concluding a decade ago, Breaking Bad still remains one of the most popular drama series around.
The show starred former comedy series star Bryan Cranston in an altogether different role, as chemistry teacher-turned-drug lord Walter White. While the thriller series always had moments of outright comedy, it was within the context of a show about murder, lies, and greed. So, not quite Malcolm in the Middle.
One of the most memorable instances of comedy within the show was when Walter White threw a pizza onto the roof of his house. The scene comes as the character is looking to reconnect with his wife after she's discovered the extent of his lying and is trying to remove him from the family home. After she rejects his attempt at bridge-building, he throws the pizza behind him in rage and it lands squarely on the roof of the house.
Now, Bryan Cranston has spoken about the scene and has shared that he managed to get the pizza on the roof with his very first try. Speaking on the Rich Eisen Show, he said "I'm holding this thing with two arms going, "Why did you put every topping on top. This is heavy as hell." So I had to fling it and I go, "How am I going to get it up there?" … And I can't throw it up there purposefully. It has to be an accident. So I said, "I think I can make it to about here." And they had a camera up there. Shooting towards it."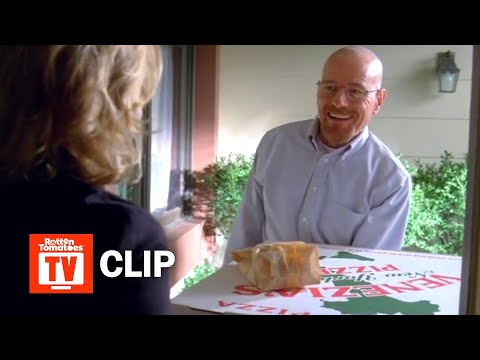 Cranston continued, saying "And I just got angry and flung it. And it went flop, right in the place that was perfect. One take. One take, right there. And I heard gasps. But I continued the scene and didn't look at it. I got in the car and drove away. And I said, "What was that, what happened to the pizza?" They said, "You could not have placed it any better. You could not have thrown it any better than that. We got it. It's fantastic. Let's do another take."
The actor's explanation of the scene is perfect, and reveals the extraordinary accidental precision that it required for him to get it right on the first go. That's impossible to overestimate, because as Cranston says he had to make the shot look entirely unintentional. Thankfully, he couldn't have done it any better and the pizza roof scene is one of the most memorable in the whole show.
For more on the world of Breaking Bad, check out this guide on the Better Call Saul ending explained. Or, take a look at our picks for the best TV series of all time.