What are the best Amazon Prime movies? You've got your popcorn, your favourite beverage, and a full evening to knock something off the watchlist, but what to pick? Streaming platform Amazon Prime Video has plenty to offer, especially in terms of modern hits and awards contenders, but sifting through can be time-consuming.
Maybe it's time for a horror movie? Or an anime movie? Or maybe one of the best movies ever made? Not to worry, we've gone through all of it to find the greatest choices available. We're all killer, no filler at The Digital Fix, and that goes double for finding great films to watch, whether they be classics or new movies.
Not everything here may be to your tastes, but they're all worth a look. The best Amazon Prime movies cover all tastes, and we should note some are part of channels within the service, but free trials mean you can still access them without paying more. If you'd like a free trial to check out Amazon Prime, you can sign up through our affiliate link here.
What are the best Amazon Prime movies?
The Matrix
Everything Everywhere All At Once
Sicario
Rebuild of Evangelion
Shaun the Sheep Movie
Room
Fantastic Mr Fox
The Big Sick
The Empty Man
The Matrix (1999)
One of the greatest science fiction movies of all time, The Matrix may be more than two decades old, but its innovative effects and choreography still feel as fresh as they did in 1999. Humans are in a prolonged war against the machines, played out via a virtual world we're born into so artificial intelligence can harvest our bodies.
BOO! The best Amazon Prime horror movies
Keanu Reeves is Neo, the 'One' who'll lead the human uprising. Flanked by Laurence Fishburne's Morpheus and Carrie-Anne Moss's Trinity, he battles Agent Smith while trying to activate his powers. Lana and Lilly Wachowski set a new standard for genre filmmaking.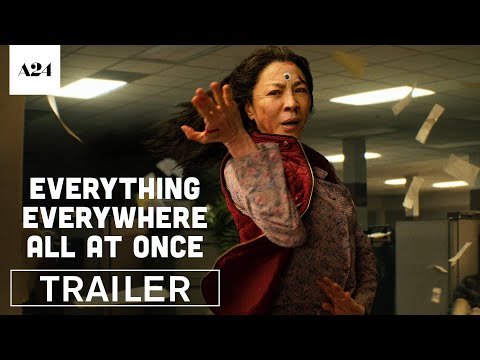 Everything Everywhere All At Once (2022)
A film that is simultaneously about the entire multiverse, and the sweet nothingness of doing taxes together. Daniel Kwan and Daniel Scheinert, known together as the Daniels, throw Michelle Yeoh and Ke-Huy Quan into a bizarre, endlessly twisting fight to save existence.
Jamie Lee Curtis is there too, and many of the sequences and set-pieces need to be seen to be believed. Never has watching two rocks sit on a cliff face together been so enthralling, and that's just the start. Watch out for hot-dog fingers.
Sicario (2015)
One of Denis Villeneuve's darkest films, Sicario is an ultra-acidic neo-western that dives into US efforts to subdue the Mexican drug trade and finds no peace to be had. FBI agent Kate Macer is promoted to a CIA task force led by Josh Brolin's Matt Graver that's sent to capture a particular cartel leader, but half-truth after half-truth gradually dissolves whatever idealism she had about the mission.
The long con: The best TV series
Bleak lighting keeps the mood heavy, people often standing as shadowy silhouettes against the barren landscape. Ideal conditions for Benicio Del Toro's hard-knuckled hitman Alejandro Gillick to wind up taking the limelight.
Rebuild of Evangelion (2007 – 2021)
To recommend any part of Hideaki Anno's reboot of his anime series Neon Genesis Evangelion, would be doing a disservice to the whole. Like the original Star Wars trilogy and the Lord of the Rings movies trilogy, Rebuild of Evangelion is best viewed as a quadrilogy, and that's what we're including it as.
Stunning: The best animated movies
Across the four films, you start with a beautiful, big-budget remake of the opening episodes of Evangelion, before transitioning into a completely different narrative that maintains thematic strands from previous incarnations. What starts as Shinji Ikari piloting an EVA against the invading Angels to please his father becomes a glorious, long-form meditation on anxiety, expectation, and learning to believe in yourself. And there are some buckwild monster designs to boot.
Shaun the Sheep Movie (2015)
We've all been there: trying to save the boss from harm after he's ended up lost without his memory in the local town. In this case of role-reversal, a farmer's flock of sheep have to try and herd him back home while he wanders aimlessly thanks to a knock on the head they caused. Shaun, the daring leader of the pack, takes charge of the rescue, in what is a breathlessly hilarious madcap adventure.
Aardman crafts the feature, using the same rotund shapes and soft demeanours of forebear Wallace and Gromit. Mostly wordless, facial expressions and good timing are plenty for the punchlines to find their mark. Laugh out loud in the purest sense.
Room (2015)
If ever assurance is needed of Brie Larson's abilities, Room is it. Lenny Abrahamson adapts Emma Donoghue's novel, about a kidnapped mother and son whose entire life exists within a small furnished shed. Serially abused, Joy does the best she can to inspire some sense of wonder in Jacob, eventually plotting his escape into the outside world.
Chilling: The best ghost movies
Though heavy, Room holds a brightness thanks to Joy's spirit. Her conditions are tough to comprehend, but her uplifting and nurturing of Jacob lights up the screen regardless. Remarkable.
Fantastic Mr Fox (2009)
The playful live-action work of Wes Anderson has created some of the better movies of the '90s and into the 21st century. This eccentric and vivacious stop-motion feature suggests we've been losing out on some even better animation. A retired thief, the titular fox gets his whole family in trouble when he decides to perform one last job.
Anderson's signature talent for casting grants us the gift of George Clooney, Meryl Streep, and Owen Wilson taking on anthropomorphic roles. More furry friends await around every corner, and being able to mold every speck of dust and piece of dirt puts a clear spring into the famed director's step.
The Big Sick (2017)
Truth is often stranger than fiction, and the highs and lows of Kumail Nanjiani and Emily V Gordon's early romance beggar belief. Co-written by the couple, now long married, what starts as a fling becomes something more serious, then they break up, and suddenly Nanjiani is meeting her family while she's comatose in hospital.
Be honest: The best movies based on a true story
Cushioned by a sweet ending, director Michael Showalter finds plenty to work with in Nanjiani's awkwardness. Whether it's bickering with Zoe Kazan's Gordon, or being the third wheel to Holly Hunter and Ray Romano, each scene offers some cringe-induced smile or a brief moment of 'Rather you than me, mate'. Hold for the last shot.
The Empty Man (2020)
The term "Lovecraftian" is overused as a synonym for cosmic horror, and when it is deployed, it can set expectations higher than the subject delivers. The Empty Man, written and directed by David Prior, is Lovecraftian.
When a group of teenagers goes missing, retired detective James Lasombra partakes in some local gonzo investigating. Somehow, all paths lead back to some urban legend about the 'Empty Man', and the rest is best left discovered for yourself. Based on the graphic novel by Cullen Bunn and Vanesa R Del Rey, it's a curveball that'll keep you guessing.
Those are the best Amazon Prime movies. Have a look at our lists of the best Disney Plus movies, best Netflix movies, and best Netflix series if you want to see what else you can stream right now.