Who's in the Barbie cast? Are you a Barbie girl in a Barbie world? If so, you may be excited to learn that the world's most popular doll (and her boyfriend, Ken) have a movie, and it's finally here!
Barbie has already marked itself as one of the best movies of 2023, and we agree in our Barbie review! Starring Margot Robbie as the title character, the best feel-good movie of the year is doing everything it can to shake off the baggage of the doll's legacy.
You know that the Barbie movie was released on the same day as Oppenheimer, but you may not know about the Barbie cast, plot, or what people are saying about it. Well, don't worry, dear reader. We've scoured the internet to bring you everything we know about the Barbie movie cast, reviews, plot, and more.
Who's in the Barbie movie cast?
Margot Robbie and Ryan Gosling head up Barbieland as Barbie and Ken respectively.
Like with the packed Oppenheimer cast, it would be easier to say who's not in the Barbie movie. And, to make things even more complicated, pretty much everyone in one of this summer's biggest new movies is called Barbie or Ken.
Here's the full Barbie movie cast list:
Margot Robbie as Barbie
Ryan Gosling as Ken
Will Ferrell as the toy company CEO
Helen Mirren as the narrator
Simu Liu as Ken
Issa Rae as President Barbie
Alexandra Shipp as writer Barbie
Emma Mackey as physicist Barbie
Kingsley Ben-Adir as Ken
Ncuti Gatwa as Ken
Scott Evans as Ken
Ana Cruz Kayne as Judge Barbie
Ritu Arya as journalist Barbie
Nicola Coughlan as Diplomat Barbie
Dua Lipa as Mermaid Barbie
Kate McKinnon as Gymnast Barbie
Hari Nef as doctor Barbie
Sharon Rooney as Lawyer Barbie
Emerald Fennell as Midge
Michael Cera as Allan
John Cena as Merman Ken
Rhea Perlman as Ruth
Barbie movie release date and reviews
Overall, the reviews for the Barbie movie have been overwhelmingly positive. The main points of praise come from the film's world-building capabilities, as well as Ryan Gosling's performance of Ken.
Our own Jessica Cullen had much to say about Gosling's interpretation of the bleach blonde boyfriend in her Barbie review, saying: "As a man who initially made a career out of broodily staring at things, he may be one of the greatest comedic actors of his generation."
Elsewhere, critics have pointed out the refreshing take on existentialism and the challenging of the Barbie concept altogether, with Peter Debruge from Variety saying, "Gerwig's girl-power blockbuster offers a neon-pink form of inception all its own, planting positive examples of female potential for future generations" and Lovia Gyarkye from The Hollywood Reporter writing, "Gerwig delights in the richness and weirdness of her material in this clever send-up of Barbie dolls and their fraught legacy."
The movie released on Friday, July 21, 2023, and has been one of the biggest box office hits of the year.
What is the Barbie movie about?
The Barbie movie finds Barbie travelling to the real world to understand why she is suddenly experiencing existential awareness.
Barbie lives in Barbieland, where she exists as 'Stereotypical Barbie'. Essentially, she's perfect. But when she starts having thoughts of death and questioning the reason behind her existence, she's told that she needs to travel to the real world to seal the rift between there and Barbieland.
Ken tags along with her, and he winds up falling in love with the idea of the patriarchy. When he travels back to Barbieland, he takes it with him, where he manages to overthrow the Barbies and turn the Kens into the dominating force.
Barbie also encounters the suits at Mattel, who try and put her back in her box. Thankfully, she manages to escape, and returns to Barbieland where not everything is as she remembers… For a full breakdown on the Barbie movie, be sure and read our Barbie ending explained guide!
Is there a Barbie movie trailer?
Yes! After a string of teasers, the first full Barbie movie trailer dropped on May 25, 2023.
It gave a perfect snippet of how the bright bubblegum pink world of Barbieland would look, and gave a preview of the hilarious work by both Ryan Gosling's Ken and the rest of the Barbie cast.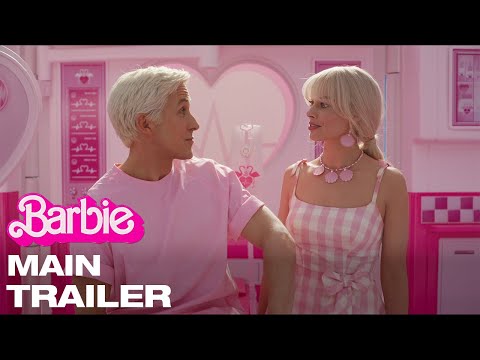 Where can I watch the Barbie movie?
The Barbie movie is exclusive to cinemas for now.
But it's also inevitable that the Barbie movie will end up on one of the best streaming services before long (probably HBO)'s Max), but the big cinema event of the summer — sorry, Mission Impossible 7 — is initially only at the multiplex.
If you want to know more about the most exciting movies to come, check out the Cruella 2 release date and The Meg 2 release date, or if you prefer a few more explosions, we have guides to The Equalizer 3 release date and an Oppenheimer review. You can also see if there's a Barbie 2 release date on the way.
Or for more from the life in plastic, check out 20 things you didn't know about Barbie, and see the iconic toys that should get a film after the Barbie movie. We also have guides on what the age rating is for Barbie and why Barbie was banned in Vietnam.