There's a new Damien Chazelle movie in town, and the acclaimed filmmaker has taken his work in a decidedly more dark and debauched direction with Babylon. The new movie is a sprawling and surreal exploration of Hollywood in the 1920s, and offers the perfect juxtaposition to the more idealistic La La Land.
An idea posited by our Babylon review is that, if La La Land is Chazelle's romanticised depiction of the American dream, then Babylon is the nightmare version of this in every way. The former, a musical awash with vivid colours and gentle melodies is the antithesis of Babylon, a hedonistic comedy movie dominated by a rustic colour palette and depraved behaviour.
In an interview with The Digital Fix, Damien Chazelle explained exactly why his latest picture is so unhinged and vulgar compared to his other work; and teased some crazy ideas that were lost along the way during development. We also discussed the similarities between Babylon and La La Land and how the two productions informed one another.
From the opening moments of Babylon, as elephant dung splatters the screen, it's abundantly clear that Chazelle is not concerned with taking a delicate approach this time around. Indeed, this brash drama movie contains a multitude of sins and transgressions; from excrement and projectile vomiting, to drug abuse and wild orgies.
The more mature and graphic tone of Babylon has divided audiences, and even as a hardened Chazelle fan, I have to admit some of the more outrageous moments didn't quite land for me. However, this was all part of the plan for Chazelle, who was intent on shocking audiences and pushing boundaries.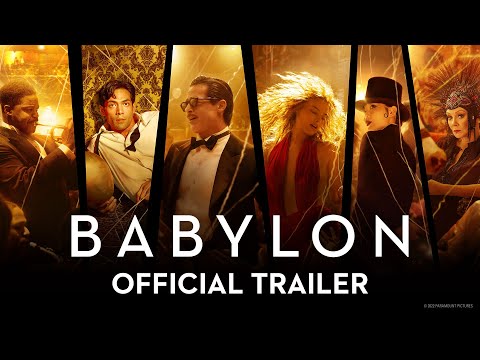 "It was just my way of capturing the spirit of the time. It was an outrageous time, it was a shocking time, it was a transgressive time. The world the movie depicts, you have to try to understand that Hollywood at that moment in history wasn't the global behemoth we now think of it as. It was this very new thing with a lot of new money," Chazelle said.
Chazelle explains how the industry at the time "had a kind of misfit, deviant quality to it, because movies weren't considered a true art form by a lot of polite society." This dynamic led to what Chazelle describes as "an unbridled, hysteric kind of energy," that he was keen to imbue his film with.
"Movies became respectable, and I think a lot of that punk rock anarchy got suppressed and disappeared. So, Babylon needed to recapture that time when movies were truly considered vulgar. I needed to be vulgar; I needed to be outrageous; I needed to shock; I needed to offend; I needed to push the envelope," he added.
Bringing Babylon to the silver screen was a 15 year journey for Chazelle, resulting in a 100-page document of ideas and inspirations that producer Matthew Plouffe described as a "dissertation." Chazelle's style and his concepts have naturally evolved over time, and Babylon is indeed the work of an assured and bold filmmaker.
Since Babylon's inception, Chazelle has gone on to great things with his work. The thriller movie Whiplash earned him widespread acclaim, and then La La Land made him the youngest recipient of the Oscar for Best Director. Babylon has always been there, in the background, waiting for its time to emerge from the shadows, and it's clear that Chazelle's experiences along the way informed his latest work.
The connections between La La Land and Babylon may not seem apparent on the surface, but the two are closely linked. Like the untethered in the Jordan Peele movie Us, Babylon is the darker, more twisted reflection of its technicolour sibling La La Land. Both stories focus on ambition, success, the sacrifices made along the way to get to the top, and the perks and complexities of fame.
La La Land depicts a somewhat painful yet fruitful journey for two star-crossed lovers, who go their separate ways in order to achieve their dreams. Babylon, on the other hand, provides far less of a happy ending. If La La Land is for the dreamers of the world, Babylon is a testament to those who lost their way and ended up in the gutters.
When asked how he felt about the notion that Babylon is the nightmare version of La La Land, Chazelle said: "I like that, I think there's some truth to that. It's a weird thing, too, because I started working on Babylon, at least just as a concept way before La La Land. So, the movie comes out much later, but it predates it in another way."
"I do think while shooting [Babylon], some part of me wanted to shake things up a little bit. To sort of re-approach this idea of the dreamer in Hollywood, that basic, archetypal idea. It's very kind of mythic, you know, there's the American Dream aspect to it. But I wanted to try to approach it now in a totally different way, to try to 180 the perspective and switch it up," he added.
Throughout Babylon, Chazelle retains many of his trademarks; from the quick pan of the camera, to elaborate musical set-pieces. In fact, composer Justin Hurwitz has even sprinkled the Babylon score with hints of the melodies from La La Land; shadows of those joyous tunes lingering among Sidney Palmer's brass symphony.
The only thing missing from Babylon then, was another collaboration between Chazelle and Ryan Gosling, but fear not, that partnership may well return in the future. When asked if he plans to work with the actor once more, Chazelle enthusiastically replied: "I'd love to. Yeah, 100% if he'll have me. I'd like to think at some point we'll join forces again, and make it a trilogy."
You heard it here first, folks. If you want to know how to watch Babylon, we have you covered. Or, dive into our list of the best Margot Robbie movies and the best Brad Pitt movies for more from the stars of Babylon.